Boston ABC's Freddie Carman suffers defeat after tough bout, but Dylan Upsall wins
Boston ABC's Freddie Carman was beaten in the ring in North Wingfield on Friday night.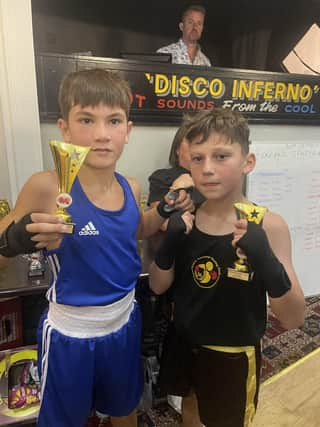 Both boxers started well, with the home boxer causing problems for Carman in the middle of round, as his backhand rocked back his opponents head.
A strong first round, saw both boxers having success and the contest started to show it's full potential.
With both boys wanting to get a head, the round saw nothing more than the first round offered and all endeavours were on both boxers to win the last round. A strong display of from both lads, saw the home boxer take the result.
In Chatteris on Saturday, Boston ABC travelled with youngster Dylan Upsall ,who was in action in against Swaley Smith, of the Attleborough ABC, in their maiden skills bouts.
Both boxers demonstrated good attacking movements in a high energy bout that entertained the crowd. Dylan boxed behind his jab that was getting through and caught the Attleborough boxer, a pleasing night's work from the Boston lad.On the same bill Boston's Neiridas Ulcinas boxed Henry Doe of Fenland Sparta on his home show. Neiridas came out fast and met Doe in the middle as they both went to war, unleashing powerful punches in each others direction.
It was a breathless first round that was difficult to score. Into the second Neiridas made a tactical change that ensured that he was reaching his target more frequently, boxing behind his jab and throwing straight punches - he began to cause some problems.
In the latter stages of the round a hard shot cut through Ulcinas defence that caused the referee to jump in to administer a count, unperturbed Neiridas continued to mix it with Cambridgeshire fighter.
In the last the Boston boy went for broke and threw everything he could to break Doe's will who commendably fought well under pressure, at the sound of the bell both boys were visibly tired with the judges decision given to the Fenland boxer.