Boston AC's Final Fling end of season meeting attracts clubs from 13 clubs
Fifty athletes from thirteen different athletic clubs based over seven counties competed in the Boston and District A.C, "Final Fling" end of season track and field meeting.
Watch more of our videos on Shots! 
and live on Freeview channel 276
Visit Shots! now
Fifty athletes from thirteen different athletic clubs based over seven counties competed in the Boston and District A.C, "Final Fling" end of season track and field meeting.
Competitors from as far afield as Chelmsford , West Suffolk and Leigh joined local athletes to contest 65 events
During the day 14 "Gold Tops" were involved in events which were held in particularly good weather with both home and away athletes producing some excellent performances.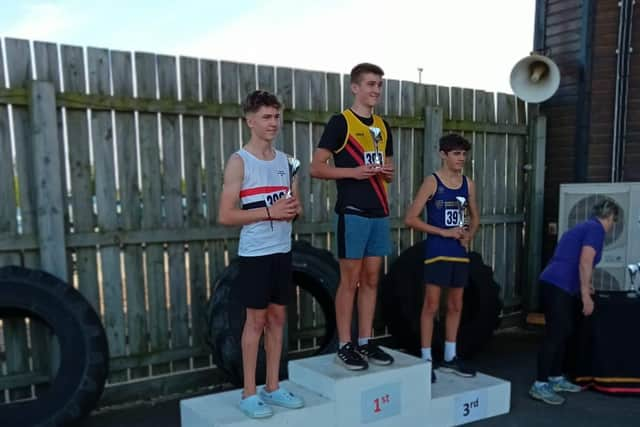 A good entry in the Under 15 age group events resulted in some hotly contested competition particularly in jumps and throws. In the Boys section Jack Clark-Atkins notched up three victories including a personal best performance in Triple Jump. Jack cleared 11.43m which increased his best ever effort by 16 centimetres and also secured first places in Long Jump with a leap of 5.25m and Shot when his putt of 10.84m was just two centimetres below his "P.B".
In the Javelin event Jack's best throw of 36.96m earned him second position.
There were nine entries in the Under 15 Girls section with the host Club's Julia Paluch and Issy Reid featuring. In her first event Julia cleared 2.20m, equalling her personal best in the Pole Vault and added first places in Long Jump and Triple Jump recording 4.31m. and 9.34m with both distances just a little shy of her season's best. The best of Julia's 3K Shot efforts measured 8.43m. which secured fourth position in a high standard contest.
In the same age category Issy Reid achieved a leap of 3.64m to claim fourth place in Long Jump and finished sixth in Discus with 16.58m and eighth in Shot with a putt measuring 6.66m.
Jess Newlin competed in the Under 17 Womens Throwing events winning the Hammer with a season's best 25.28m and then claimed runner up position in both Discus 15.36m and Shot 6.39m .
In the Mens Veteran 40 category Ben Pell recorded some very useful performances clearing 1.34m in High Jump and 5.07m in Long Jump and then throwing the Javelin 30.13m and adding 9.31m in Shot.Finishing an impressive season on a high note Nigel Bilton recorded 29.09m in Discus and 27.98m in Hammer in the Mens Veteran 65 age group.
Three B.A.D.A,C representatives contested events at Under 13 Girls level with Isabel Cassell making an impressive debut . Isabel won her first 70m. Hurdles race in 14.0 secs, cleared 7.39m in Triple Jump for second place and added a third position in Long Jump with a very promising leap measuring 3.53m.
In the same Long Jump competition Amelia Ambrose recorded 3.34m.. Mia Clark-Atkins produced an excellent breakthrough Hammer Throw with her best effort going out to 18.35m for a splendid first place Mia also registered 4.04m. in Shot and 2.90m in Long Jump.
In the Under 13 Boys section Jacob Collier won the Triple Jump challenge with a leap of 7.56m. and claimed second place in both Long Jump with a leap of 3.61m. and Javelin with a throw of 12.30m. Competitors in the Under 11 age category enjoyed the fine, warm ,dry conditions. In the Girls events. Rose Pell brought her impressive first competitive season to an end with further good performances . In Long Jump she crowned her 2023 series with yet another effort beyond three and a half metres recording a leap of 3.84m. to win the event . Rose also won the 600 Metres race in an improved time of 2 mins. 10.4 secs. and threw the Vortex a distance 13.05m..Lucy Ambrose was second in both the Vortex 15.28m. and Long Jump 2.87m. contests and recorded 2 mins. 10.4 secs in fifth place in the 600 Metres race and Evie Nolan leapt 2.51m. in Long Jump and threw the Vortex 12.89m.. One young Under 9 "Gold Top" made an impact on his first outing for the club. Theodore Louth impressed in the throw launching the Vortex out to 26.94 m. and then won the Long Jump with a leap of 3.17m before completing the one and half laps of the 600 Metres in a debut time of 2 mins. 18.8 secs..