Boston and District AC athletes impress on county duty
Eight members of Boston and District Athletic Club represented Lincolnshire in the 2022 Northern Counties Under 15 and Under 17 Inter-County Track and Field Championships at York.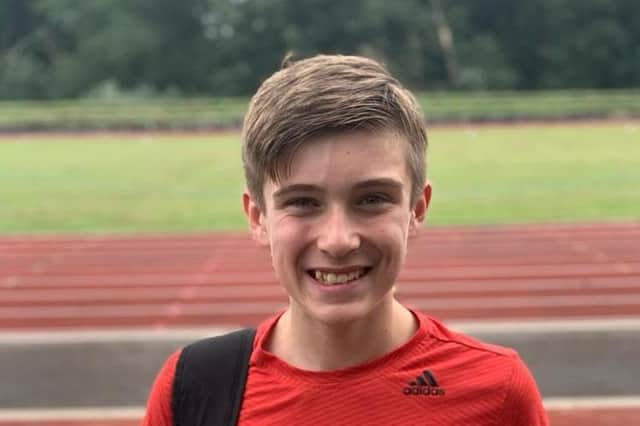 After more than two years of being starved of representative track and field competition because of the pandemic, the young Gold Tops lacked experience at inter-county and regional level.
But there were some spirited performances in county colours.
In the under 15 girls' section, Macey Dimberline finished a good sixth in the shot competition with a personal best 8.94m.
This new PB takes Macey very close to the shot putters' benchmark distance of nine metres.
Three Boston and District AC youngsters represented Lincolnshire in the under 15 boys' age group championships.
Patrick McNally achieved a PB in his heat of the 80m hurdles, recording 14.5 secs for 11th position overall and also competed in the long jump, clearing 4.41m (15th).
A leap of 4.57m placed Jack Clark Atkins 12th in long jump and he also added ninth-place points in shot with a putt measuring 7.34m.
In the same age group, Hayden Quantrill finished 10th in shot with 7.33m and contributed to Lincolnshire's fifth place finish in the 4x100m relay.
Four Gold Tops were included in the Under 17 women's county team.
Louise Hirst competed in four events and achieved two personal bests.
In the shot a new best putt of 9.49m gave Louise eighth position and a PB clearance of 1.45m in high jump placed her 10th.
In addition, Louise recorded 4.79m for a good sixth place in long jump and ran the 400m leg in the medley relay.
Hannah Hardwick improved her 300m best time by recording 49.01 secs in 17th place and also ran a 200m leg in the medley relay which crossed the finish line eighth.
Georgia Ward's shot putt measuring 8.11m. gave her 14th place and she also finished 15th in javelin.
Injury forced Megan Reid out of the high jump after she had cleared 1.25m to secure 19th place points for Lincolnshire.
The third round of this year's Tommy Clay Track and Field Development Series produced a host of personal best performances.
Under 17 McKye Bird, running in a combined senior, under 20 and under 17 men's 100m race, recorded a PB 11.8 secs in third place and added another PB in the 200m, recording 25.8 secs.
Senior John Fulcher clocked 11.7 secs over 100m 25.0 secs for 200m and also won the javelin (26.43m) and high jump (1.50m).
Under 20 Luke Saunders clocked 2mins 32.9 for third in the 800m and recorded 12.9 secs in the 100m, also finishing third in javelin.
Julia Matikane claimed a 21.77m javelin throw.
In the under 17s, Louise Hirst recorded 51.0 secs in 300m hurdles, 1.40m in high jump and 17.04m in javelin while Jess Newlin's best shot putt was 6.52m after she had clocked 16.0 secs in fourth position in the 100m.
Megan Reid won the shot with 7.14m and cleared 1.30m to claim second place in the high jump.
In the under 15 boys, Hayden Quantrill won the 100m (13.1 secs), shot (7.42m) and javelin (22.50m) while Patrick McNally was second in both 100m (13.4 secs) and shot putt (6.24m) and recorded 2 mins 38.8 secs for fourth in 800m mixed age race.
Under 15 Issy Reid won shot (6.15m), javelin (16.08m) and recorded 16.8 secs over 100m while Julia Palunch cleared 1.15m in high jump and recorded 15.1 secs in the mixed 100m as well as claiming runners-up spot in the javelin.
In the under 13 age group Devan Quantrill was runner-up in the 100m (15.5 secs) and 200m (32.6 secs) and was fourth in javelin.
Damian McNally won the javelin (12.59m), high jump (1.10m) and was third in the 200m (32.9 secs) and Noah Donnelly Coles recorded 16.6 secs for the 100m, 33.6 secs for 200m and claimed second in the javelin.
For the girls, Kirsten Richardson cleared 1.10m to win high jump and recorded 36.9 secs for 200m and 7.54m in javelin.
Isabella Pike recorded 17.9 secs in the 100m, 1.05m in high jump and 6.50m in javelin.
Rubern Frost- Ware gained valuable experience in the 200m (43.3 secs), javelin and 800m.
At under 11 level, Peyton Teague won the girls' 80m (13.4 secs), finished second in long jump (2.82m) and also claimed fourth in mixed whizzer (14.84m).
Lexi Atkinson recorded 16.7 secs in the 80m, 33.6 secs in 150m and 2.07m in long jump.
In the boys, Oliver Pike won whizzer (27.49m) and recorded 2.42m in long jump and 30.6 secs in the 150m.
Jacob Creasey clocked 13.4 secs over 80m, 27.8 secs for 150m and cleared 2.33m in long jump.
In the under nines, Lennon Teague won the boys' 80m (14.3 secs), whizzer (23.36m) and finished second in long jump (2.36m) and Flynn Donnelly Coles won long jump (2.36m) and was second in whizzer (13.59m) and 80m (15.0 secs).
Ellis Richardson recorded 16.7 secs in 80m, 32.2 secs in 150m and 1.98m in long jump and Billy Frost Ware recorded 21.2 secs in 80m and 1.05m in long jump.
For the girls, Frankie Goff won the 80m (15.2 secs), threw the whizzer (9.26m) and recorded 1.78m in long jump and Evie Nolan achieved 15.7 secs, 9.0m and 1.93m in the same events.
A leap of 2.01m earned Ada Martin third place in the mixed long jump and she also recorded 16.0 secs in the 80m and 8.74m in the whizzer.
BADAC's Emma Penson finished third in the Market Deeping 10k's veteran 40 women's category.
Emma recorded 48 mins 59 secs while teammate Ollie Lammiman finished 20th in the senior men's category, recording 28 mins16 secs for his 10k.