The course started and finished at the iconic ArcelorMittal Orbit and wound its way up through the famous park before looping around the London Olympic Stadium.
The loop measured 2.5k, meaning the 5k runners ran it twice and 10k runners ran it 4 times. The route was clearly marked with arrows and distance markers and with marshals stationed throughout the course everyone found the route easily.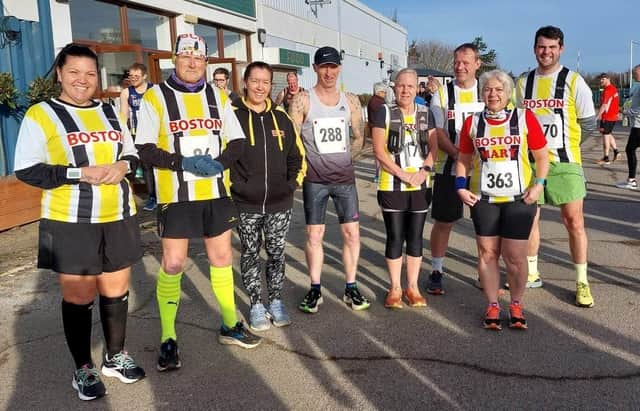 It was a bit of a challenge seeing the same landmarks four times but Shiela targeted each loop as a personal challenge to the previous loop and this paid off with her crossing the line in 55.01 for a new PB time.
The Tigger Tor is the first event in the annual Totley AC fell race series and acts as a curtain raiser on the new year of bog trotting and hill scrambling for many fell runners.
The race route was amended from previous years, with the start/finish moving from Tigers RUFC to the Norfolk Arms at Ringinglow. This removed the road sections at the start and end, and the course was around a mile shorter.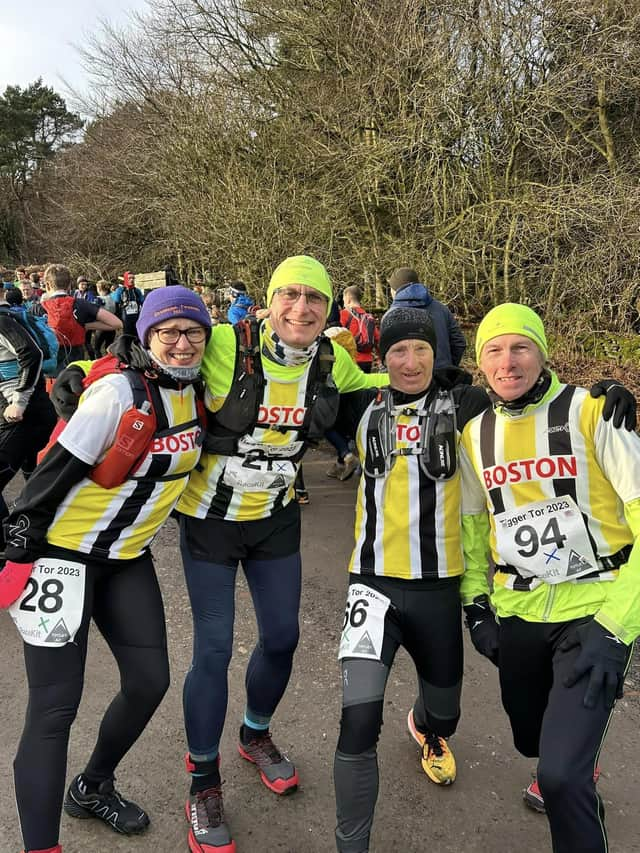 The weather this year was bright and cool, with a fairly strong wind blowing from the west. The ground was wet, but not excessively so, and the rivers crossings were easily navigated.
The fast start along the old Roman Houndkirk Rd and detour down to the junction next to Sheephill Rd gave way to a long section on single track running – good for those who fear the navigation, not so good for runners who started too slowly and got caught in traffic.
From the top of Burbage Edge, it opened out and runners dropped to the first river crossing before climbing up to the high point at Higgar Tor.
From there it was a section of fast running down to Toad's Mouth before a hairpin turn sent everyone back up to the checkpoint on Carl Wark. Another speedy descent took competitors to the second river crossing, followed by a boggy slog across to the final summit at Houndkirk hill and back down the road to the finish.
Four members of Boston Community Runners took part and all enjoyed the challenge. Steve Roberts finished in 1.34.19. Next home was John Burton in 1.55.48 followed by Darren Bevan and Jill Coleman both clocking 2.10.31.
Just up the A17 through Sleaford the Rauceby Ripper is a trail run of almost 9 miles and is a very popular event that sells out early. This year the course was perfect both underfoot and with the weather.
It was cold but with no biting wind the runners soon warmed up as the sell out race got underway. Twenty Four runners from BCR took the colours along and recorded some fabulous times.
Dan Clark led the black and yellow stripes home in a time of 58.41 followed by Steve Roberts in 1.02.19.
Simon Jackson was next in 1.07.12 followed by new member Lee Conway in 1.09.24. John Burton ran a time of 1.11.46 closely followed home by Nathan Saw in 1.12.37.
A great run saw Alistair Winter stop the clock in 1.16.49 just ahead of Darren Bevan in 1.17.55. Jill Coleman ran a superb 1.18.15 with Marcus Staff clocking 1.20.36.
Training partners Matt Tunnard and Beth Lines had a strong run finishing together in 1.22.18 as did Tanya Knight and Rachel Conway who both crossed the line in 1.23.58 Neil Goodwin recorded a time of 1.30.28 and he was followed home by Sharon Houghton in 1.37.45 and Tracie Charles in 1.38.50.
Lesley Buswell was pleased with her time of 1.39.51 and a sprint finish gave Frances Mills and Linda Rands a time of 1.41.41.
Clare Teesdale came home in 1.41.43 just ahead of Nicola Housam in 1.42.19 with Sarah Burton just behind in 1.42.37 the final club runner back.
On the 5th February 11 members of Boston Community Runners took a short ride up the coast to take part in the Skegness Coasters 10k with 350 other runners.
The beginner-friendly flat course starts at Southview Leisure Centre and loops around the Water Leisure Park at Butlins.
The weather was perfect for running all the Boston team put in good performances. Steve Roberts led the club home breaking the sub 40 with a PB time of 39.56.
Nick Turner followed him back stopping the clock in 45.43. A strong run from Sam Hewson gave him a time of 52.18 finishing just ahead of Stephen Cornwell with a super run of 52.27.
Karen Hindle ran strongly in 55.38. Mary Turner was pleased with her 1.04.29 with Kevin Hindle not far back in 1.04.53. Nijil Vasukutty had his first run in club colours stopping the clock in1.06.05.
Jackie Hallett ran a 1.09.24 and running buddies Jessie Bland and Jo Heron finished in 1.15.47 and 1.15.48 respectively.
Boston Community Runners are a running club for all abilities and distances. They also offer a RunWalkRun group and a Walking with Purpose group.
They meet Tuesdays and Thursdays at about 6.50pm for a 7pm start from Peter Paine on Rosebery Avenue and also arrange weekend social runs.
For further information about the club and it's activities visit www.bostoncommunityrunners.co.uk or search Boston Community Runners on Facebook.