Boston Indoor Bowling Club kick off anniversary celebrations
Boston Indoor Bowling Club is celebrating its 85th anniversary this season with a number of events planned throughout the autumn and into 2024. The first one was a Ladies vs Men competition played out recently for the inaugural Anniversary Trophy.
Watch more of our videos on Shots! 
and live on Freeview channel 276
Visit Shots! now
A total of 48 bowlers, 24 ladies and 24 men, each split into 6 teams of 4, came together to play a match over 3 hours and a maximum of 21 ends. The final amalgamated score saw the Men win by 143-79.
Mark Brown skipped the winning Men's rink, with Steve Boycott, Rob Druce and Nick Whitmore in support, to triumph by 31-8.
The best Ladies rink with skip Sue Simpson-Shaw finished strongly with a run of 11 unanswered shots over the final ends to grab a 16-16 draw with Mick Hippisley's Men's rink.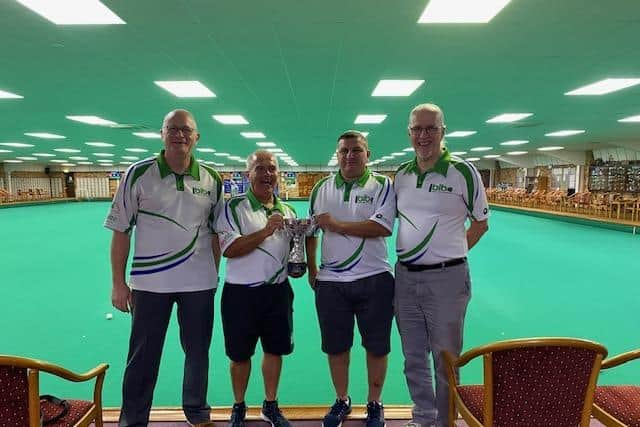 Jean Thompson's rink held the lead for much of their match, a closely contested affair. Tied at 18 all going into the final end, the match was ultimately won by Nathan Dunnington's rink, 19-18.
The other rinks were won by Mike Rymer 30-14, Paul Flatters 23-11 and Bob Thompson 24-12.
Of several matches in the Orchard Health Group First Division of the Evening League that might be considered to be the 'Match of the Week, top billing could go to Strollers against Royal Mail, which ended 5-1 to Strollers, including the shot aggregate by just 1 shot.
Royal Mail were ahead for most of the games on each rink with a clear lead going into the last ends, hoping to win. But, with Strollers scoring 4 shots on the final ends of each rink, they took Mick Dodes' rink to win by one, 14-13, and drew on Alan Everitt's 19-19.
Another competitive contest saw Golfers beat newly promoted Dynamics 5-1, but only after fighting a rearguard action over the final ends.
Graham Scarboro's rink were down 9-15 before they scored 11 shots in 5 ends to win 20-15. On the other, David Marshall was trailing 12-19 with three ends to go but came back to draw 19-19, including a score of 4 shots on the last end.
Holland Fen beat Breakaways 6-0, and both rinks were close before Holland Fen dominated the final ends, to win 27-12 and 19-13.
Two more close matches saw 4-2 scorelines as Invaders beat IBC and Parthians beat A40.
Jim Gott's IBC rink established an early lead to win 24-18. Invaders went 6-9 behind on Scott Whyers' rink, but finished well to win 19-11.
Parthians won 21-13 on Richard Keeling's rink, gradually building their lead, while A40 skip Jean Cammack was always in front to win 18-12.
Nomads also took 6 points, against Burtons, winning 16-14 and 24-12.
Desperados now top Cammacks Division Two after convincing wins of 28-11 and 24-10 against Woodpeckers.
Hotspurs moved into second after beating Amateurs to take all the points. Mick Rate's rink controlled the game to win 15-9. Mike Nelson won 14-12, but only after fighting back from being 7-12 down with 3 ends to go.
Vikings beat Central, now third, 5-1, winning one rink 23-19 and drawing the other 16-16.
Phantoms and Vectors both won 4-2.