Boston take on county teams in anniversary day
The 85th anniversary celebrations continued at Boston Indoor Bowling Club.
Watch more of our videos on Shots! 
and live on Freeview channel 276
Visit Shots! now
The latest event was an invitation day with four Boston teams, representing the Directors, Greens Committee, Trudy Bates and Weekenders, playing eight other teams from clubs around the county.
Two points for a win and consideration of the shot difference decided the final order of the teams.
First, and overall champions, were the Greens team of Steve Boycott, Mike Rymer, Mark Brown and Paul Flatters who had two very good wins, 18-4 against LWIBA and then 16-4 against Spalding.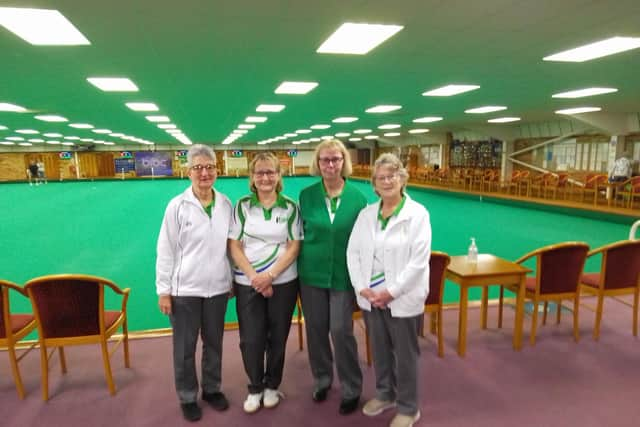 Lincoln, second, also had two wins, but they were close affairs, 9-7 against Dunholme and 9-6 against Skegness.
Boston's Trudy Bates team finished third, winning 12-11 against Skegness, where they had been leading 9-2 at one point, and 9-7 over the VPs.
Back to activities in the Evening League, week 6 saw Holland Fen and Invaders re-find their form to post 6-0 wins against Royal Mail and Breakaways respectively in the Orchard Health Group First Division.
Against Royal Mail, Martin Tomlin's rink pulled ahead decisively from the eighth end to win 30-14. On the other rink, Holland Fen went 2-8 down before recovering, and the game was still tight at 11-11 after 12 ends, before they pulled away to win 20-13.
Invaders started well on both rinks. Scott Whyers' rink were 24-4 up and eventually won 26-16. Ian Tebbs was 11-0 ahead very quickly and ran out 18-10 winners.
Strollers beat A40 4-2, but gained the extras for shot advantage by only 1 shot. Andy Warne's rink were in control throughout and won 21-9. A40's Jean Cammack won the second rink 21-10.
IBC have risen into fourth after a 6-0 win over Golfers. Dave Gill's rink pulled away to win 19-10 after a close start. Richard Pearson's rink went into an early lead, then saw their advantage disappear as the score became tied at 12-12 with two ends to go. They then conjured the better finish to win 15-12.
Nomads beat Dynamics on both rinks for 6 points, 24-11 for Derek Smith and, in a closer game, 16-12 for Mel Maddison.
Parthians were relentless in beating Burtons 33-9 for Pete Sharman and 31-10 for Keith Nix.
Hotspurs increased their lead in Cammacks Division Two by beating Optimists 4-2. Mick Rate's rink had a good 25-11 win, while Andrew Reeson for Optimists finished well over the last four ends to win 20-14.
Central moved above Desperados into second after beating them 6-0, Rita Epton's rink winning 20-12 from the front. The other rink was closely contested until the final ends when Central ran out 20-15.
Vikings faced Phantoms, winning 4-2, to replace them in fourth place. Doug Staples' rink took the game 23-13, leading from the off. For Phantoms, Keith Brown got off to a good start and had the better finish to win 23-15.
Kevin Rockall skipped his Vectors rink to a good 22-11 win over Shipmates. On the other rink, Vectors built a 14-6 lead, but Ian Drury for Shipmates managed the end game to win 15-14.
Amateurs beat Kingfishers 4-2, winning 25-7 on Mick Greet's rink. On the other, the score was still tied at 11-11 before the John Fell for Kingfishers won the final ends to take it 15-11.