Bowlers in good form as Horncastle IBC get under way
​The indoor bowls season is under way and it's been a busy start to club, county and national competitions for Horncastle IBC.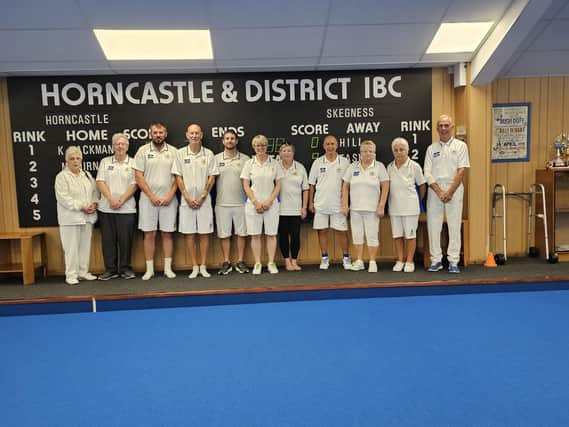 ​The ladies Trudy Bates team led the way in the Club County Competitions when they played their first county match of the season against a strong Louth contingent. Louth narrowly won by 79 shots to Horncastle's 74 and by ten points to 4. Rink Scores:- J Taplin 25-18, O Wells 23-20; P Scholey 14-24 and J Moody 12-17.
Horncastle's LIBA Men's Northern Team travelled to play the club's second match of the indoor season against Scunthorpe. Horncastle played a convincing game and won by 83 shots to Scunthorpe's 68. Rink scores:- K Jackman 12-26; P Bark 11-23; M Burn 33-8 and L Boucher 27-11
Following the Men's LIBA success the LIBA Mixed League North Team travelled to Louth for the club's penultimate game of the fortnight to Louth last Saturday.
Louth straight away took advantage of playing on home soil and maintained a lead of 9-10 shots throughout the first 15 ends of the 21 end game. Horncastle never lost sight of their ultimate goal and took the match to the wire, eventually winning on three of the four rinks and taking the aggregate six points by a 74 to 72 shots victory. Horncastle won by 12 points to 2.
Rink Scores D Trapmore 19-23; Neal Burn 18-17; L Boucher 18-14; R Benjamin 19-18.
The first National Competition to be played by Horncastle IBC was in the Top Club v Skegness on Sunday.
This match consisted of Ladies and Men's singles, mixed pairs, mixed trips and mixed 4s with 11 members of each team striving for a place in round three. Horncastle took full advantage of playing at home and went on to have a convincing win in all five matches, winning by 16 points to nil.
Rink Scores: Ladies Singles L Main 21-9; Men's Singles T Nunn 21-13; Mixed Pairs K Jackman 28-6; Mixed Triples Mark Burn 13-9; Mixed Fours L Boucher 20-7.
If you are interested in playing bowls either socially, competitively or coming back to bowling, the club is holding its first Open Day on Sunday 15th October from 10am to 2pm.
All equipment is provided with qualified coaches and experienced bowlers on hand to help if needed. Also free tea and coffee whilst you wait for a rink.