​Duo become British champions once again
​Todd Ellis and Emmanuelle Clement from North Kelsey were at Brands Hatch on Sunday where they won both races in the final round of the British Sidecar championship to retain their title for a second successive year.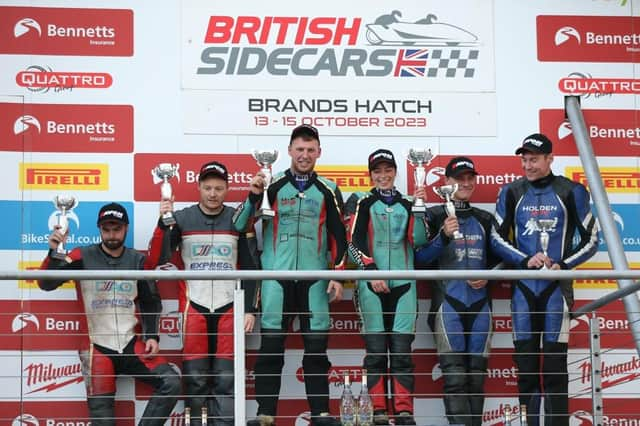 ​Fresh from the penultimate round of the FIM World championship in Germany, going into this final round of the British championship at Brands Hatch Ellis and Clement were equal on points with Blackstock/Rosney and with double points up for grabs it was going to be an exciting couple of races.
After qualifying in pole position, Ellis and Clement lined up alongside Williams/Pitt for the start of the first of two races. But it was Blackstock/Rosney who leapt to the front when the lights went out and they led the race from Ellis and Clement for the first two laps.
On lap three the current world champions made a pass on their rivals and took the lead. Meanwhile Blackstock/Rosney were overtaken by Williams/Pitt who were quick to catch and challenge Ellis and Clement for the lead. But Ellis was having none of it and stepped up the pace in the tricky damp conditions and pulled away on the Brooklands LCR Yamaha to establish a small lead.
On the final lap Williams/Pitt pulled out in a cloud of smoke, leaving the way clear for Ellis and Clement to take their 11th win of the campaign ahead of Blackstock/Rosney.
Starting the final race of the 2023 championship with a small advantage over Blackstock/Rosney all Ellis and Clement had to do was finish the race ahead of their rivals and they would be champions. But they didn't get the best of starts and found themselves down in third place at Paddock Hill.
They soon recovered and passed Blackstock/Rosney at Pilgrims Drop to take second place and one corner later took the lead from Williams/Pitt. They extended their lead with every lap and crossed the finish line 9.1s ahead to take both the win and the title.
Ellis and Clement missed the round at Cadwell because it clashed with a world championship round but won all the rest of the races in this year's British championship.
They now turn their attention to the final round of the World championship at Estoril in Portugal which takes place on October 27/29. They have a 22 point lead over the Birchall brothers at the top of the rider standings and only need to either beat them or finish right behind them to take their second successive world title.