​Duo on the verge of retaining world title
​Todd Ellis and Emmanuelle Clement from North Kelsey travelled to Germany for the penultimate round of the 2023 FIM World Sidecar championship where they recorded a brace of second places to extend their championship lead to 22 points over the Birchall Brothers.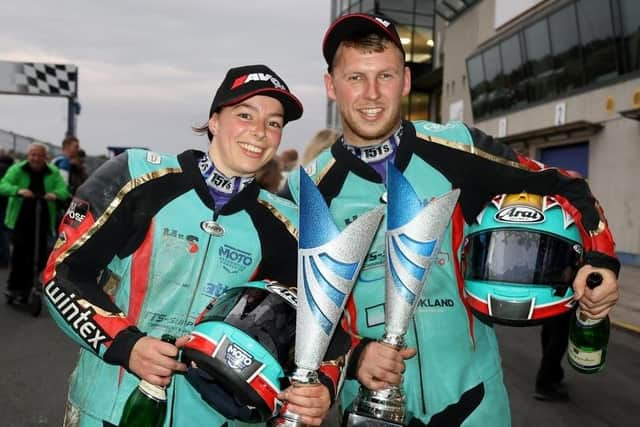 Despite both suffering from a virus, they completed free practice in second place and went on to do the same in qualifying which gave the current world champions a front row start to both races alongside pole setters Kershaw/Charlwood.
The championship is now effectively between Ellis and Clement and the Birchall Brothers and with just a nine point lead it was imperative that Ellis and Clement completed the two races ahead of their rivals.
With just a second separating the top five teams in qualifying it was anticipated to be two close races but a crash further downfield of the opening lap of race one on Saturday caused a lengthy delay before the grid was formed to get the field under orders once again.
Again it was Kershaw/Charlwood who got the hole shot and set the pace at the front, swiftly followed by Ellis and Clement. The two teams pulled clear and with the Birchalls down in fifth place Ellis was not going to risk a crash to battle for the lead and completed the 12 laps in second place to pick up a further 20 championship points, bringing his total to 218 and doubling the advantage over the Birchalls to 18 points.
Race two went much the same way for Ellis and Clement as they set off in second place behind Kershaw/Charlwood. This time it was a much closer contest but Ellis could not make a pass stick and followed Kershaw in close company until on lap 15 they encountered the first batch of back markers.
Kershaw had a smooth transit through while Ellis was held up. But Ellis caught up again to within 0.4s only for the same thing to happen again on lap 19.
This time the holdup was much longer and Ellis found himself distanced from the leader by over a second, crossing the finish line 1.3s adrift but over seven seconds ahead of the Birchalls who were third.
Going into the season finale at Estoril in Portugal over the weekend of October 28/29, Ellis and Clement hold a 22-point advantage and just need to finish both races ahead of the Birchalls to retain their world title.