​Durham claims second spot in thrilling Thruxton battle
​It was another good weekend for G&S Racing Kawasaki when the team paid its annual visit to Thruxton for round seven of the Pirelli National Superstock and Junior Championship.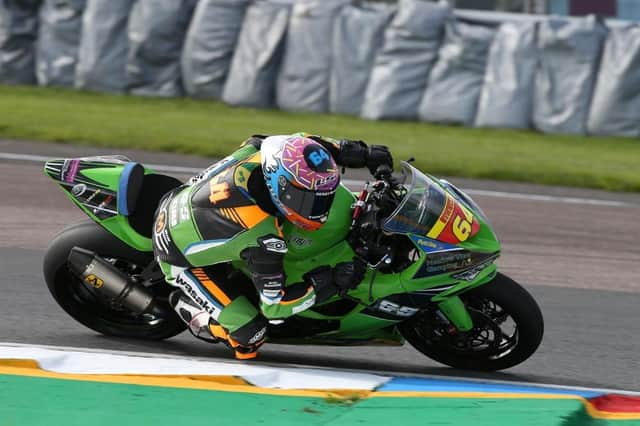 ​Asher Durham rode to a close second place in the Junior race and Jorel Boerboom a 25 and 26th place in the senior class.
Durham had a tricky qualifying session on a drying track after a heavy shower of rain and waited until the dying seconds of the session before putting in a flying lap to secure fifth place and a start from the middle of the second row to his race on Sunday morning.
As the lights went out he got a cracking start and settled straight into second place behind series leader Aaron Silvester. With Cam Dawson and Declan Connell joining the two front runners, the action was fast and furious with places exchanged on every lap. With the top four battling it out this allowed the rest of the pack to close up and it was anyone's race.
On lap 12 Durham hit the front and it all came to a head on the final lap at the club chicane when Silvester made a pass and as they rounded the final corner Silvester and Durham were side by side. As they crossed the finish line it was Silvester who snatched the win by a margin of 11 thousandths of a second from Durham to claim maximum points. Durham retains his second place in the overall standings with 26 points separating him from Silvester; but with four rounds and eight races remaining.
Boerboom had two races to contest and he too had a difficult qualifying session as there was a heavy downpour prior to the start of the session. But the team was quick to switch to wet weather tyres and he completed the session in 24th position for a start from the eighth row of the grid.
As the race got underway Boerboom became embroiled in a four-way battle for position and ended up in 26th place at the flag.
Placed on row 10 for the second race on Sunday again Boerboom was involved in a battle for position within a group of three or four riders. Places were frequently exchanged between the group with Boerboom overcoming the opposition and completing the race in a strong 25th place.
The next round is at Cadwell Park over the Bank Holiday weekend August 26/28.