Ellis and Clement go nine clear in World Championships
​World Sidecar champions Todd Ellis and Emmanuelle Clement from North Kelsey travelled to Holland for a round of the FIM World Championship at Assen where they put in an impressive performance to take the win in each of the two races and now lead the 2023 standings by nine points from the Birchall Brothers.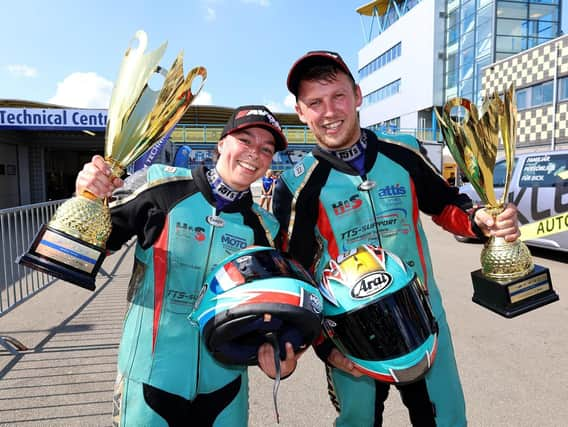 ​After making adjustments to the LCR Yamaha, Ellis and Clement completed their qualifying in third position to start Saturday's sprint race from the second row. But it was very close with just eight tenths of a second covering the top six outfits.
As the sprint race got underway Ellis and Clement settled into third place content to follow Payne/Rousseau and Reeves/Wills through the early laps as they fought it out for the lead. Once Reeves/Wilks made it to the front it was time to move and on lap three Ellis and Clement started to make inroads into Payne/Rousseau.
On lap five they made a pass and moved up into second place with the Christie Brothers following them past Payne/Rousseau. By lap seven Ellis was right on the back wheel of Reeves and when Reeves missed a gear on the penultimate lap Ellis and Clement took advantage and snatched the lead which they held to take the win with a 0.4s advantage over Reeves/Wills.
Ellis said: "That was a fantastic race and win for us. I followed them round to make sure I saved my back tyre and just picked the right moment. It was that close and one missed gear was all it took for us to get past Tim."
On Sunday the teams lined up for the main race run over 16 laps with Ellis and Clement once again starting from the second row. As the lights went out it was Reeves/Wilks who took the lead from Payne/Rousseau with Ellis and Clement hot on their heels in third place. On lap two Reeves took the lead at the first corner with Ellis following through Payne into second place.
On lap three Ellis snatched the lead but Reeves returned the compliment on the exit to the corner. By lap three Reeves had dropped back and been replaced by Payne/Rousseau with Ellis overtaking Payne on the brakes at the first corner and this time made the move stick.
Once in the lead Ellis and Clement began to accelerate away from the following pack that was fighting it out for the remaining podium positions, crossing the line for their second win of the weekend with a 4.2s advantage over Ben Birchall and substitute passenger Ryan Crowe who was deputising for the injured Tom Birchall.
Heading into the autumn break Ellis and Clement now have a nine-point lead. The penultimate round is at Oschersleben over the weekend of October 7/8 followed by the season finale at Estoril in Portugal on October 28/29.