Ellis and Clement win world title once again
​After taking two podium finishes at Estoril in the final round of the FIM World Sidecar Championship, North Kelsey's Todd Ellis and Emmanuelle Clement have been crowned world champions for a second successive year.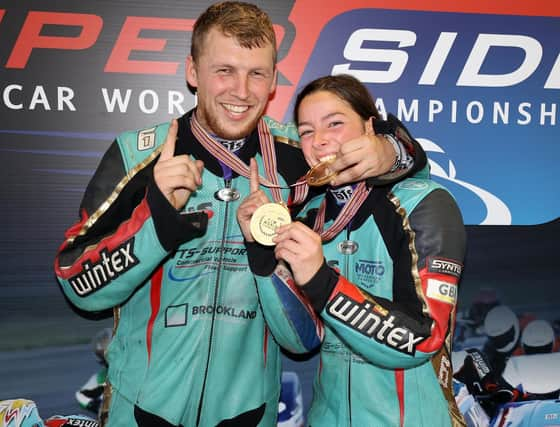 Clement also goes into the history books as the first lady passenger to win two successive world championships.
After securing the British Championship again two weeks previously, the pair headed to Portugal for the final round of the World Championship in which they had a lead of 22 points over their nearest rivals Ben and Tom Birchall, but with 50 points available it was down to the wire as to who would be crowned champions.
Free practice and qualifying was run in tricky conditions with a half wet, half dry track but in the final session Ellis and Clement held pole position until the dying seconds when Paivarinta/Schmidt snatched it from them, leaving Ellis and Clement to start the sprint race from second place with the Birchalls right behind in third.
The ten-lap sprint race was brought forward to Saturday because of the threat of heavy rain on Sunday. The track was mostly dry but with some damp patches off the racing line and it was Paivarinta/Schmidt who led the field into the first corner. He shot away and never looked back and took the win from the Birchall Brothers with Ellis and Clement settling for a safe third place.
With their championship lead down to 18 points, if the Birchall Brothers won the final race Ellis and Clement had to complete Sunday's feature race in no lower than ninth place to retain their title, so a nerve racking 17 laps awaited them.
Starting from second place once again, Ellis and Clement didn't get the best of starts and completed the first lap in third place. This time the Birchalls took the lead from Paivarinta but on lap two Ellis moved to second place right behind their rivals.
Knowing all he had to do was sit behind them to secure the title, Ellis was in no hurry to make a pass on the Birchalls. But as the race wore on The Christie Brothers began to catch the two leading outfits and on lap 12 they made their pass stick on Ellis and Clement demoting them to third place. The Christies chased after the leaders and on lap 15 of 17 they took the lead.
At the flag it was the Christies who took the win from the Birchalls with Ellis and Clement taking third but more importantly the title with a 14-point advantage.