Familiar look at the top of Boston's indoor bowls league
The top of the table in the Orchard Health Group First Division of the Evening League at Boston Indoor Bowling Club has a familiar look with Holland Fen top, Invaders second and Strollers third.
Watch more of our videos on Shots! 
and live on Freeview channel 276
Visit Shots! now
Holland Fen won 6-0 convincingly against Burtons, posting scores of 31-8 and 34-4. Against Dynamics, Strollers also won 6-0, 31-7 for Mick Hippisley's rink and 15-11 in a much tighter game for Andy Warne.
Invaders played A40, winning 4-2. They established an early lead to win 24-17 on Rod West's rink. A close game on the second rink saw them 10-8 up after ten ends, but A40's Bill Exton finished better to take the game 15-14.
IBC and Nomads in fourth and fifth have started the season really well. This week, IBC met Parthians to take all the points, winning well on both rinks, 31-6 for Richard Pearson and 25-10 for Dave Gill.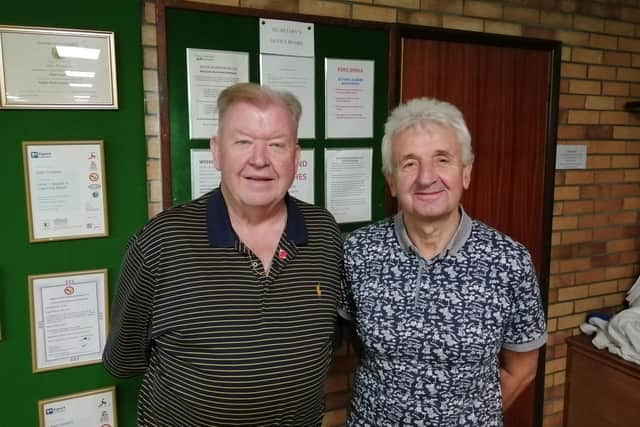 Nomads took on Breakaways and also won 6-0. Mel Maddison's rink, with Mike Cornish and Mick Harrison in support, built a 14-6 advantage over 13 ends, then withstood a come-back by Breakaways to eventually win 15-13.
Breakaways were in control on the second rink to lead 16-7 after 11 ends before Margaret Gardner, Keith Wilson and Derek Smith for Nomads finished strongly to grab the win 17-16 on the last end.
Golfers had a good result over Royal Mail, two places higher in the table, to win 4-2. Graham Scarboro's rink were in control from the midway point of their game and won 26-10.
Ian Smith, Royal Mail's skip on the other rink, controlled the final five ends of an otherwise close game, to run out 20-13 winners.
The key match in Cammacks Division Two saw the top two sides meet, Hotspurs taking all the points from Central with two commanding performances. Mike Nelson, with Pam Rate and Rob Druce supporting, won 29-6.
The other rink was close initially before Hotspurs pulled away to win 23-11, for skip Mike Long.
Vikings remain in third on shot difference in spite of being beaten 4-2 by Amateurs. John Stray, Vikings skip, won a close game 17-15 for 2 points. Trevor Coulson skipped the second rink to a good win for Amateurs, 26-10.
Desperados moved into fourth after a 4-2 win over Vectors, Dean Harris' rink winning 26-12. Colin Heppenstall skipped his Vectors rink to win 13-10 in a closely balanced game.
New team, Optimists, took all the points from their match with Shipmates and have moved into fifth place, with Andrew Reeson's rink winning 26-9 and Dave Richardson's 28-8.
Woodpeckers beat Kingfishers 4-2, with Dave Fox's rink dominating the scoring to win 25-5. John Fell achieved a 15-9 win on the other rink for Kingfishers.