Highs and heartbreak for Jack Harvey at Texas Motor Speedway
Meyer Shank driver moved up to fifth in the standings before mechanical failure...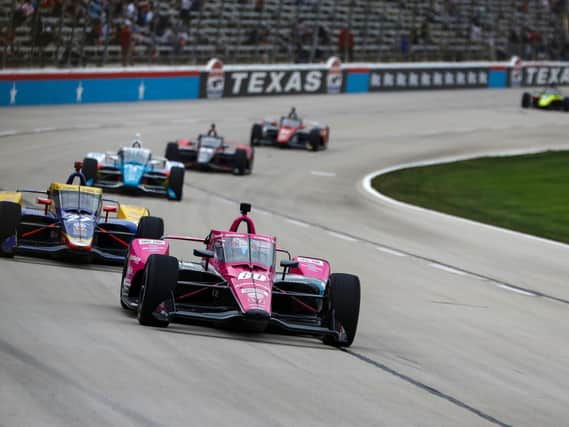 Jack Harvey tasted the highs and lows as the IndyCar Championship moved to Texas this weekend.
The Basingham driver showed impressive pace in race one on Saturday, finishing seventh at Texas Motor Speedway, guiding his Genesys 300 advanced Meyer Shank Racing AutoNation/SiriusXM Honda to fifth in the championship points standings.
However, what was looking to be a second consecutive strong run ended in smoke on lap 118 the following day, his vehicle suffering a mechanical failure while running fourth.
"We were running so well until we had that issue," said Harvey.
"Our pace was good and I felt like we were really holding our own up front.
"I really feel like we could have pulled off a podium today but unfortunately that's how racing goes sometimes.
"We have some really good momentum heading into the GP in a few weeks."
Sunday's Xpel 375 saw Harvey start from the inside of row three, and after an early caution he made an outstanding re-start to pass two cars and charged to third in the order.
Harvey's Honda was on rails through the first 71 laps of the race ahead of his first pit stop.
A front wing adjustment and tire pressure change sent Harvey back out on track fourth in the running order.
Just as Harvey was gaining ground, a plume of smoke emerged from the rear of the car which sent Harvey into pit lane.
A mechanical problem in the right rear of the car unfortunately ended Harvey's race day early.
Reflecting on Saturday's race, Harvey said: "I thought today went really well, at times we looked really good and at others I think we had some things to work through.
"We had a small issue with the shift lights in the car, so restarts were a bit tricky.
"The AutoNation/SiriusXM Honda is pretty quick around here. The biggest thing for us is the level of improvement compared to a year ago, it's just massive.
"I'm so grateful for Meyer Shank Racing and the effort they put in."
Meyer Shank Racing will begin preparations for a big weekend of racing later this month as both the team's IndyCar and IMSA WeatherTech programs are set to compete at the GMR Grand Prix at the Indianapolis Motor Speedway Road Course (May 15) and the Acura Sports Car Challenge at Mid-Ohio Sports Car Course (May 16).