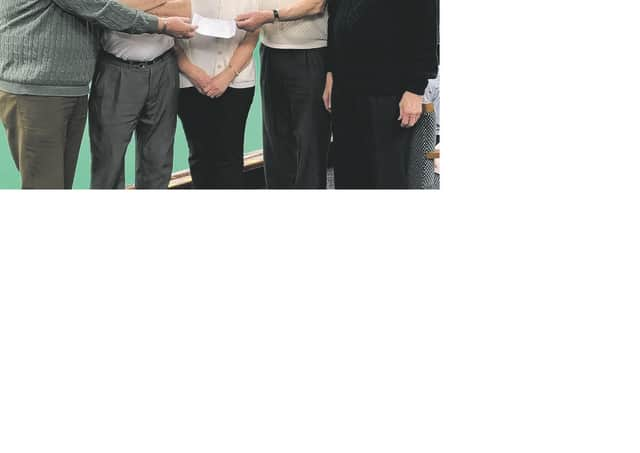 The hosts won on all five rinks and took all 18 points.
Rink scores:- N. Rodgers won 21-11, D. Walsh won 36-16, G. Lancaster won 28-11, S. Avison won 24-15, N. Burton won 30-6.
Horncastle's Mixed League Division One team played host to Stamford.
Having been defeated away at Stamford earlier in the year this was Horncastle's turn to take victory.
They won by 109 shots to Stamford's 74, winning four rinks and drawing the other, taking 17 of the 18 points on offer.
Rink scores: J. Scholey won 15-13, K. Taplin won 29-19, L. Main won 23-17, C. Starsmeare drew 15-15, P. Scholey won 27-10.
Horncastle IBC's Friendly Team enjoyed a trip to Skegness despite being on the end of a defeat.
They were beaten by 112 shots to 89, Horncastle winning on three rinks and losing on three.
Rink scores: N. Dallas lost 10-18, T. Percival won 24-15, C. Elliot won 19-15, P. Thomas lost 5-31, T. Dixon lost 13-19, P. Limb won 16-14.
Horncastle IBC held their bi-annual Charity Gala Day, organised and run by club members David Turner and George Lancaster, earlier this month.
The total monies raised were divided between two charities, Guide Dogs for the Blind and MyAware.
The Guide Dogs were represented by many members and also ex-working dog Orson, who was looking for support to help raise money to cover the £40,000 a day it takes to support the working and training dogs in the UK.
MyAware is a small charity supporting the 10-12,000 people in the UK who suffer from Myasthenia Graves, as well as looking for a possible cure and bringing awareness to the public of MG.
Sixteen teams took part including a Myaware and a Guide Dogs for the Blind Team.
One of the teams also included two of the club's newest members, Alfie Spowage (13) and George Spowage (nine), who have only been playing for five weeks but were keen to take part with their grandad Doug.
Never having played a competitive game of bowls before and having had a disappointing start, losing their first match 27-0, the two young boys were determined to achieve and had better luck in their next games, gaining shots although losing 3-9, 6-8 and 3-8. They were then awarded a certificate of achievement by the club, a club badge and chocolates.
A total of £400 was raised for each charity.
The winning team was John Scholey, Yvonne Turner and Eric Fisher, with the MyAware team of Keith Taplin, Jayne Taplin and Peter Ulyatt second. Mick Trapmore, Colin Gosling and John Rapley came third.