The club's outgoing president Jayne Taplin held an afternoon fun bowls competition, 18 ends of bowls with 20 Gents v 20 Ladies. The ladies put up a good fight and led briefly at the halfway stage. The men, however, fought back hard to eventually win the game 87 shots to 58, even though the president did get some of the men bowling with their opposite hands on occasions.
The evening was concluded with the presentation of prizes for both the internal leagues and the club competitions.
Prior to the presentation of prizes the club welcomed the chief executive of the EIBA Peter Thompson. The EIBA every year take nominations from clubs from throughout the UK for individual members who have shown exceptional service to the sport of indoor bowls.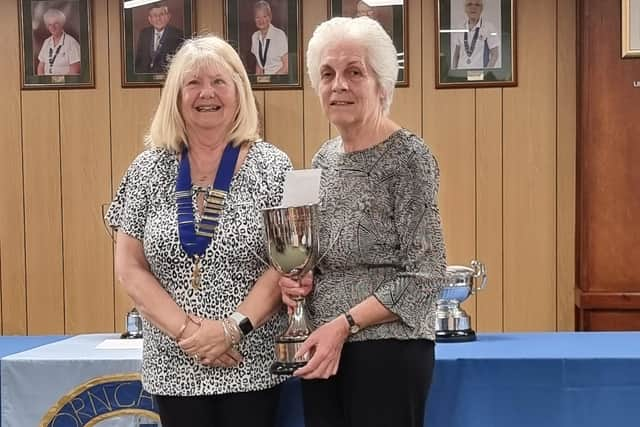 The bowling committee decided to nominate Patricia Scholey for her service to the club since 1987 in many roles over 35 years, including as treasurer and director. She was handed the Service of Merit award.
After the presentation of prizes, Jayne Taplin handed over the chain of office to David Turner, the club's President for the 2023/2024 season, this was followed by a buffet for all those who attended.
The outdoor season now commences with indoor bowling returning in September.
League and Competition Winners/Runners up were as follows: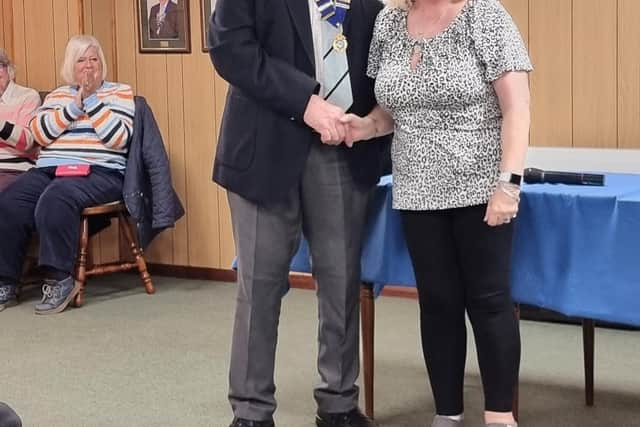 Ladies Singles - Mary Johnson: Men's Singles - Paul Bark: Ladies Pairs - Olive Wells and Mary Johnson: Men's Pairs - Norman Burton and Paul Bark.
Ladies Triples - Nicola Parker, Mary Johnson and Olive Wells. Men's Triples - Derek Tasker, Darren Trapmore and Lee Boucher.
Ladies Rinks (4's) - Nicola Parker, Judith Moody, Olive Wells and Mary Johnson. Men's Rinks - Stephen Boucher, Philip Boulton, Darren Trapmore & Lee Boucher.
Mixed Pairs - Judith Moody and Paul Bark. Mixed Rinks - Lyn Ulyatt, Olive Wells, Darren Trapmore and Lee Boucher.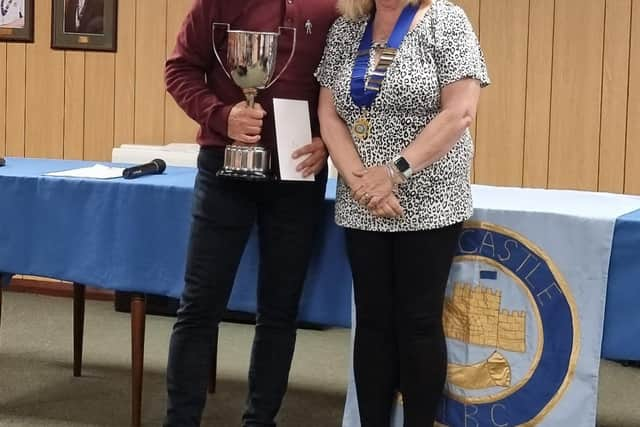 Men's Plate - Rob Wells. Over 65 singles - Norman Burton.
Drawn Triples - Colin Butler, Lorna Main & Norman Burton.
Novice Pairs - Chris Parker & Barry Sadler. 101 Singles - Norman Burton​​​​​​​​​​​​​​​​​​​​​​​​​​​​​​​​​​​​​​​​​​​​​​​​​​​​​​​​​​​​​​​​​​​​​​​​​​​​​​​​​​​​​​​​​​​​​​​​​​​​​​​​​​​​​​​​​​​​​​​​​​​​​​​​​​​​​​​​​​​​