Invaders take a statement win at the top of the Boston Indoor Bowls League
The eagerly awaited match between Holland Fen and Invaders, the top two teams in the Orchard Health Group First Division of the Evening League at Boston Indoor Bowling Club, was the key feature of round 11.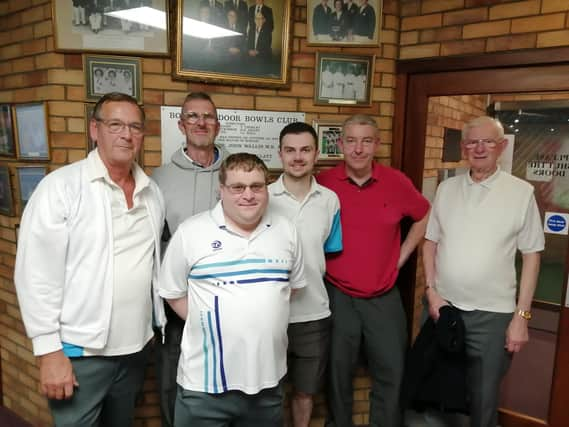 Invaders won 6-0, with Nathan Dunnington, Adrian Field and Scott Whyers taking their rink 22-17 and Ray Reeson, Andy Dunnington and Ian Tebbs winning the other 16-11 in two closely contested games. Invaders have now joined Holland Fen on 56 points.
Strollers are just behind in third after beating Breakaways 4-2. Paul Flatters skipped his rink to win 24-16. Neil Harrison's Breakaways just managed to win the other rink 13-12, having been behind for most of the game.
Fourth placed IBC shared the points 3-3 with Dynamics, Jim Gott's rink winning 25-12 for IBC and Graham Wilkinson's Dynamics rink also winning 25-12.
Nomads are clear in fifth despite losing 2-4 to Parthians, for whom Matthew Wilkinson, Ann Martin and Keith Nix started well and pulled ahead decisively to win 23-9. Keith Wilson's Nomads rink mostly had the advantage and ran out 18-16 winners.
A40 beat Royal Mail 4-2, winning convincingly on Sue Hoyles' rink 27-11, having dominated the start to lead 19-0 after just 7 ends. Ian Smith's Royal Mail rink built a good 13-3 lead before A40 found their form, but held on to take the game 18-17.
Golfers took all the points against Burtons, winning 19-6 for Graham Scarboro and 19-15 for David Marshall.
In Cammacks Division Two, Hotspurs won 6-0 against Kingfishers to extend their lead at the top over Central who dropped 2 points against Shipmates.
For Hotspurs, Mike Long's rink had a good 21-5 win. Mick Rate won 16-12, seemingly close, but they were comfortably ahead throughout.
Rita Epton's Central rink, with Jake Hewinson and Nick Fletcher in support, won 24-17. Shipmates were mostly in control on Alan Johnson's rink, eventually winning 17-16 to repel a late surge from Central.
Desperados beat Vikings 6-0 to move into third place, with two good wins for Colin Louth, 21-9, and Dean Harris, 18-10.
Optimists are now fourth having beaten Woodpeckers on both rinks, 14-8 for Ron Coaten, Marilyn Read and skip Stewart Reynolds and 15-13 in a close game for Dave Richardson, with Kelvin Hallam and Petra Wood.
Phantoms got the better of Vectors, taking 4 points, winning Roy Stanley's rink convincingly 34-7 and getting the extra points for shot aggregate. Kevin Rockall's Vectors rink won the other game, 25-12.