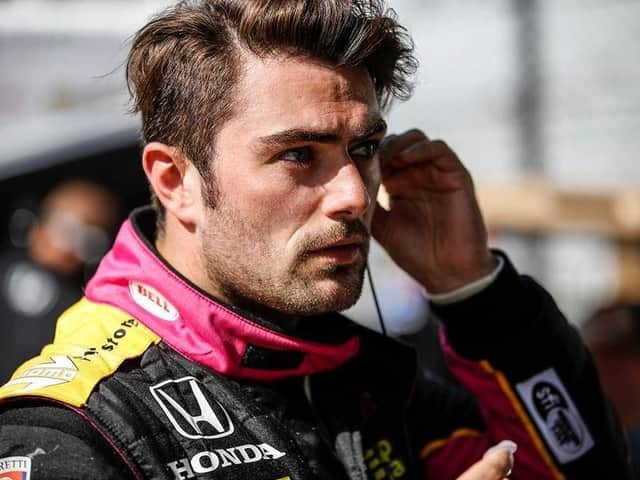 Jack Harvey claimed 11th and 13th-place finishes this weekend as the Indycar Series competed at the Bommarito 500 race weekend in Madison, Illinois.
Harvey was well placed to score his first top-five finish at World Wide Technology Raceway when an untimely caution for conditions sent him shuffling back in the pack on Saturday.
Putting his head down and setting his focus forward, Harvey made a strong charge to make up several positions to finish 11th.
The Bommarito 500 double-header race weekend was Harvey's debut at the 1.25-mile World Wide Technology Raceway. Harvey followed up a strong Friday practice session by qualifying the No. 60 AutoNation / SiriusXM Honda seventh and fifth for Race 1 and Race 2.
The green flag on Saturday brought out the determination in Harvey who made an aggressive three-wide maneuver to move into fifth right at the start. The first half of the race, Harvey was in podium contention, running as high as fourth for nearly the first 100 laps of the race.
A pit stop on Lap 103 - which was one of the team's best stops to date - sent Harvey back out on track back in contention. But just a few laps later, a caution was called for the threat of rain in the area. Although rain never arrived, the Meyer Shank Racing crew set its focus on re-organizing the strategy to move back through the field.
Falling back as far as 18th, Harvey continued to progress through the pack to close out the day in 11th.
"We were on track to have a really good day," said Bassingham driver Harvey.
"We were running in either fourth or fifth for the first half of the race and the car felt great, the guys had great stops.
"But when that yellow came out for rain it really turned our race upside down. I'm still trying to wrap my head around why it was called since there wasn't any rain that I saw on track.
"We're doing everything we can to try and show up to races and be competitive. We know that we have a really good race car for tomorrow's race so we will focus on that and getting the result that we deserve."
Hoping to improve on the team's run to 11th during Saturday's Race 1 at World Wide Technology Raceway (WWTR), Jack Harvey and Meyer Shank Racing (MSR) were looking to utilize game time strategy calls during Race 2 to generate a result to demonstrate the pace that the combo has shown all weekend.
After qualifying promised a pair of strong results, the team will look to find improvements for the future after finishing 13th on Sunday.
Regrouping overnight and confident in the No. 60 AutoNation / SiriusXM Honda under Harvey, the team were focused on using a strong strategy to keep Harvey at the front half of the field.
Starting from the third row in fifth, Harvey stayed well within the top five through the first round of pit cycles. Pitting on lap 47 for four tires and fuel, Harvey filtered back out into the fray just outside of the top ten.
Unfortunately, Harvey would never make it back into the top ten despite the team making a strategy call to opt for three stops and save fuel at the end in hopes of moving him up through the field.
The conclusion of the 200 lap Bommarito 500 saw Harvey finish 13th.
"It's been a pretty frustrating weekend for us," said Harvey.
"We keep having great qualifying runs and we some how just can't seem to get a good race result.
"I don't think we were as quick as we were yesterday. I think the hotter track temperatures laid the car not necessarily bad in balance but just lacking grip.
"One of these days we will turn one of these good qualifying runs into a good race result."
The Meyer Shank Racing team will switch gears and head to the second round of the IMSA Michelin Endurance Cup next weekend at Michelin Raceway Road Atlanta where the No. 86 Acura NSX GT3 crew will aim to solidly their championship lead.