​After qualifying third in his class in the mixed grid of riders he began race one on Saturday from the middle of the second row.
As the lights went out he got a fast start and immediately settled into second place behind championship leader Ricky Martin. He briefly took the lead on lap three but it was short lived and he settled back into third place on lap later. He battled with Freddie Russo through the remainder of the eight laps and took the chequered flag in third place.
Promoted to the head of row two for the second race he again set off to a good start and moved straight into second place behind Martin. This time no one could catch him and he remained in second place throughout the race to take another podium place.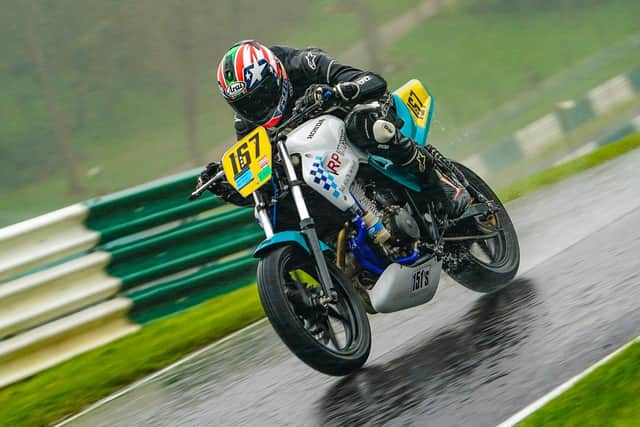 Race three was a carbon copy of the second event with Jenkins slotting straight into second place behind Martin and chasing him home at the end of the ten-lap affair.
In the final race of the weekend Jenkins was once again sat on the second row behind pole and again got a flying start to move into second place. But this time he had competition and dropped back to fourth as Mal Carter and Russo both passed him on lap two of ten. He entered a three way battle for second place, eventually passing first Russo and one lap later dispatching Carter to return to second place behind Martin. But Martin was too far ahead to make any inroads to and again Jenkins had to be content with the runner-up spot.
Jenkins commented: "It's been a good weekend for me at Donington Park although I just didn't have the speed to stay with or pass Ricky Martin who won all four races. Maybe next time I will make the top step of the podium. We had a mechanical fault in the last race which made the bike under powered and I then got pushed back a bit.
"Thanks to my team for their hard work and my loyal sponsors for their continued input: Roy Ridealgh at RP Motorsport, BJC Electrical & Solar, J Jenkins Electrical Ltd, Knox Armour,151s, Lee Jenkins, Charlotte Jean."
Jenkins remains second in the rider standings on 192 points with the next round at Croft Circuit in North Yorkshire over the weekend of June 10/11.