Joy at Knockhill as Ellis and Clement secure double win
​Todd Ellis and Emmanuelle Clement secured a double win in the penultimate round of the British Sidecar championship at Knockhill as well as the Jock Taylor Memorial trophy and the Steve Webster Fastest lap trophy to add to their haul from the visit north of the border.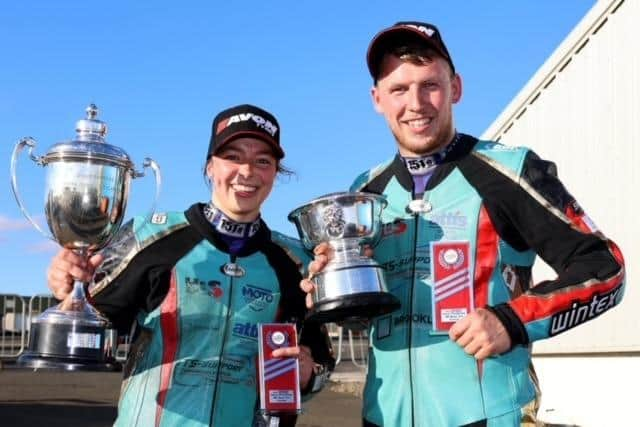 ​Ellis, from North Kelsey, along with French lady passenger Clement, put in the fastest lap during the qualifying session to claim pole position for their two races.
As the first race got under way, Blackstock/Rosney took the lead on the opening lap but Ellis and Clement were quick to overtake on lap two and never looked back, extending their lead with every lap to cross the finish line some 13.3s ahead of Kershaw/Charlwood and setting the fastest lap of the race with a 51.450s.
There was a long delay before race two took to the grid on Sunday because of so many holdups in the solo classes, so the Jock Taylor Memorial race was incorporated into the second British championship race.
As the race finally got under way it was Ellis and Clement who took control on the first lap and once again were never troubled. They extended their lead on each circulation and crossed the finish line for their second win of the day by a margin of 10.6 seconds from Kershaw/Charlwood and again set the fastest lap of the race, thus winning the Steve Webster Fastest Lap Trophy and also the Jock Taylor Memorial Trophy.
Ellis said: "I haven't been to Knockhill for a while and it's Emmanuelle's first visit here so we are pleased to come away with both wins and the trophies."
Emmanuelle added: "Todd is such a good driver and so smooth. I like the track it is so short and funny, I enjoyed it."
The points accrued from Knockhill take Ellis and Clement back to the top of the rider standings as joint leaders alongside Blackstock/Rosney with both teams on 237.5 points, meaning that they go into the final round of the current campaign level pegging to fight it out for the title.
With double points up for grabs in the final round it will be an exciting and challenging climax to the championship which takes place at Brands Hatch as a support class at the final round of the British Superbike championship over the weekend of October 13/15.