​With two races over the Bank Holiday weekend, Aaron got off to the best possible start by taking pole position in Saturday's difficult wet qualifying session which saw many riders crash out in the treacherous conditions.
By the time the riders lined up for race one late on Saturday afternoon, the track was almost completely dry. Aaron made a great start and took the lead with two riders right on his tail.
This three-rider group, with Aaron at the front, eased away to open up a two second gap. At half race distance, young Australian rider Jacob Hatch grabbed the lead but Aaron stuck with him and with two laps to go retook the lead which he held to the chequered flag to maintain a 100 per cent win rate in the first two races of the season.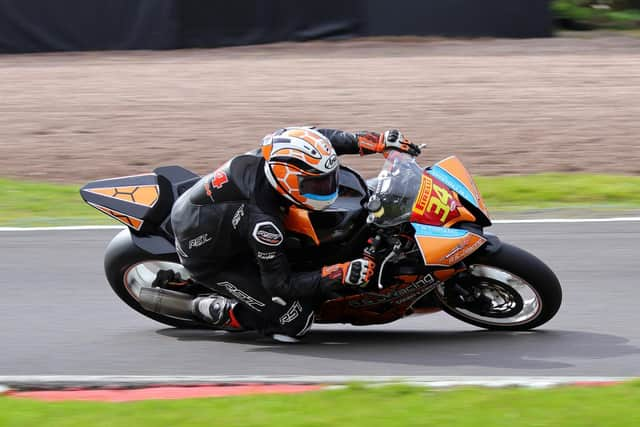 Aaron said: "I'm absolutely over the moon to bring home another win. I never would have imagined I'd be taking a win at a track where I broke my leg a few years ago. Thank you to my amazing A & J Racing team, with uncle Andrew quite literally giving blood, sweat and tears. Thanks also to my girlfriend, Kirbi, for stepping up with some awesome mechanical skills and to auntie Jo for keeping us all in line as usual."
Race two was run on Sunday morning and after a few heavy showers, the track was now completely wet.
Having set the fifth fastest lap time in race one, Aaron started from the second row of the grid in fifth place but by the end of lap one he was in the lead and having opened up a four-second lead, looked good for another win, but with his wet tyres starting to wear as the circuit dried out a little, he had a massive slide which cost him a place but he re-grouped to hold on to second place, extending his championship lead to 15 points.
Aaron's brother Max, racing the in the same championship, took a tumble in the tricky wet qualifying session on Saturday and this ruled him out of the rest of the meeting with a shoulder injury.
Max now faces some time out from racing whilst his shoulder heals but Aaron moves on to Donington Park in three weeks' time for round three of the championship.