Kyle Jenkins impresses at Cadwell Park
Ruskington's ​Kyle Jenkins was in fine form as he competed in round two of the No Limits CB500 Championship at Cadwell Park.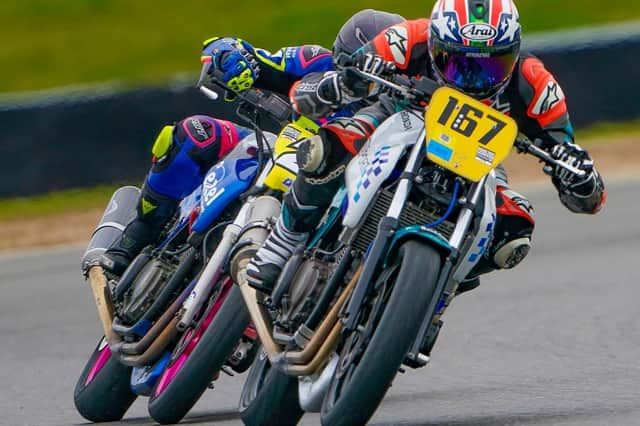 He recorded fourth place in the first race on Saturday, following up with a win and a second place on Sunday.
After qualifying as second fastest in his class in the mixed grid of riders he set off from the middle of the second row and slotted into third place behind Adam Shelton and Ricky Martin on the first of eight laps in race one, and soon became embroiled in a battle for position within a group of six riders.
On lap three he passed Martin to take third place but Martin was right with him at the end of lap four and passed him on the start and finish straight to regain his second place. On lap seven Jenkins was demoted to fourth place when Mel Carter overtook him, leaving Jenkins to complete the race in fourth position, just 0.3s away from a podium finish.
The weather deteriorated overnight and Jenkins faced a wet and greasy track for the second race of the weekend. But he was in his element, as he loves racing in the wet.
Starting from the second row once again he got a good start and soon led the race by over five seconds. He extended the lead to 7.4s on lap two and then to 9.2s on the third lap. Back markers delayed his progress but he still had a seven second advantage over the rest of the field when the red flag ended the race on lap seven.
Positions were taken back to the end of lap six and Jenkins was declared the winner by a margin of 7.9s over Josh Andrews.
Starting race three from pole position, Jenkins established a strong lead on the first lap. He remained at the front throughout the seven laps but was being closed down by Martin. On the final lap Martin managed to get past at Hall Bends and took the win with Jenkins second.
This set of results place Jenkins second in the championship on 116 points, just ten away from the series lead.
Jenkins said: "There was a bit of confusion on the result of the second race but in the end I was awarded second place which was disappointing. It's been a good weekend considering the weather and I have to thank my team for their hard work and also my sponsors Roy Ridealgh at RP motorsport, BJC Electrical & Solar, J Jenkins Electrical Ltd, Knox Armour,151s, Lee Jenkins, Charlotte Jean."
The next round is at Donington Park over the weekend of May 6/7.