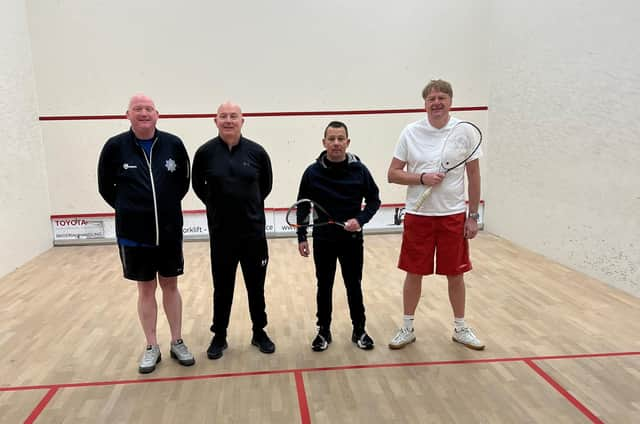 The Lincolnshire quartet.
In the main squash trophy, Jackson, Green and Richardson all suffered first round defeats.
In the squash over 35s category, Jackson defeated teammate Richardson 3-0 in the first round but lost his second round match by the same scoreline.
The over 45s section saw Green beat Richardson in the first round and Proctor handed a bye.
In the second round, proctor beat Green but was beaten in the semis.
The over 50s began with a round robin, Jackson and Richardson both suffering defeats in their groups.
In the doubles Proctor and Green cruised into the semis before being defeated.
In the squash handicapped Jackson and Richardson both suffered first round defeats.
The main racketball championship saw Proctor picking up an injury as he was beaten in the final.
The squash plate saw Green beat Richardson before exiting in the semis.
The sqush over 35s plate saw Green reach the final four.
In the over45s squash plate both Jackson and Green eased into the semi finals, jackson beating teammate Richardson befoe being beaten in the final.