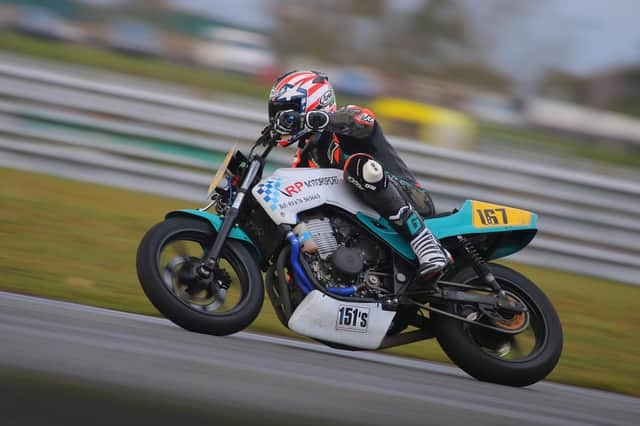 In the opening round of the season, Jenkins travelled to Snetterton to make his debut in the fastest group of the CB500 class where he rode to a brace of fourth places and stepped on the podium twice for third place.
Friday testing was run in torrential rain but Jenkins spent the time wisely to test the new tyres in the wet which was to prove very useful for Saturday's wet qualifying and race.
After qualifying third in his class and fourth overall in the mixed grid of riders, Jenkins got away to a good start, moving quickly into third place. The top three soon pulled clear and although he made a few mistakes which caused the two front runners to pull away, Jenkins completed the race in a comfortable third place.
Despite heavy overnight rain the track dried sufficiently for Jenkins to gamble on using his dry bike for race two on Sunday and he got a good start, running in third for the majority of the laps. But he encountered a back marker at the wrong time and crossed the finish line in fourth.
In the third race Jenkins didn't get the best of starts but made it through to third on lap three. But he was unable to maintain his position and took the chequered flag in fourth.
Starting the final race from the second row he got a clean start and was third into the first corner. He was elevated to second on lap two when the leader fell and entered into a long, hard four-way battle for the lead. It all came to a head at the final corner when he managed to get a good drive out of the corner to snatch third position, just 0.04s behind the second placed rider and 0.257s away from the win.
Jenkins said: "I have to give a big thank you to everyone that has helped through the off season getting both bikes to where they are now; it wouldn't have been possible without the support from you all. Roy Ridealgh at RP Motorsport, BJC Electrical & Solar, J Jenkins Electrical Ltd, Knox Armour, 151s, Lee Jenkins and Charlotte Jean."
Jenkins is third in the new campaign on 58 points with the next round at Cadwell Park.