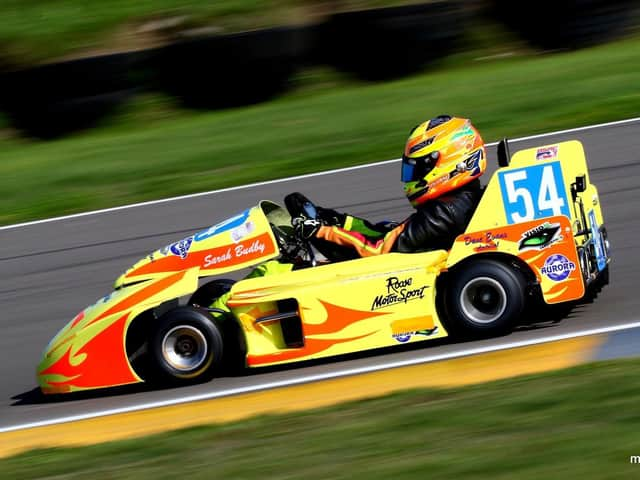 Sarah Budby is hoping to swap circuits for Crufts.
The Skegness-based racer has hung up her helmet after finishing sixth in the 125 British Superkart Championship and winning the 125 British Cup Championship.
And now she has a new target... competing at the world's greatest dog show.
After 16 years of success in motorsports, winning numerous championships and placing as the sixth best superkart driver in the country against more than 30 men, Sarah has decided it's time for a new focus.
"I've had a really good run in motorsports and I couldn't thank my family enough for all their support," she said.
"We worked hard as a team for 16 years with a lot of blood, sweat and tears - but much happiness came from our time in motor sports.
"Making the choice to retire from racing was huge for me as it's been part of my life from 11 years old, but I felt retiring on a high was the right time."
Sarah now works closely with Britain's Got Talent star Lucy Heath and her dog Trip Hazard and GB trainers in agility and heelwork to music.
Instead of racing against opponents she now races against time with her spaniel Ruby.
"Motorsports has given me a big advantage already with fitness that's required in agility and trying to keep up with a springer spaniel is hard work," she added.
"But I'm already reasonably fit just need to work on getting faster.
"I have four trainers that I work with that all specialise in different areas.
"One for agility handling, one for the fitness side and footwork in agility, another for heel work to music and tricks and one for hydrotherapy and massage to keep Ruby's muscles in good working order.
"Agility is my main sport but we train tricks and heelwork to music to keep the dog's brains fit and active."
Sarah's goal is to qualify for Crufts but, due to the pandemic, the training and competitions has had to stop which has put her ambition on temporary hold.