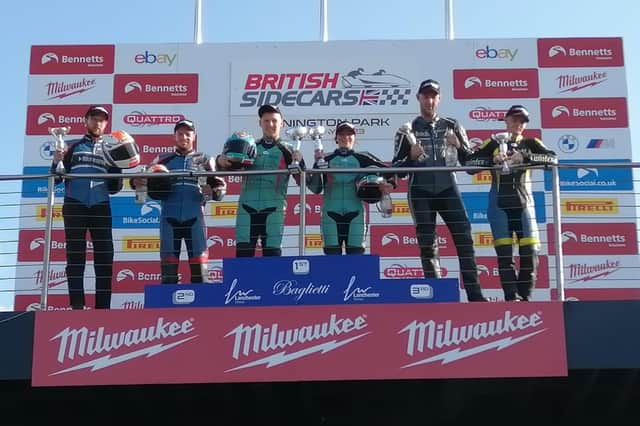 ​After qualifying in first place, the duo took their place at the head of the grid in pole position for the first of three races. They didn't get the best of starts but by the time they rounded Redgate for the first time they had the lead.
On lap two they were kissing the rumble strip with the chair wheel at the Esses and had already broken the lap record on lap two as they began to pull a gap from the Christie brothers who were running in second place.
As the race unfolded the Lincolnshire/French pair brought the lap record down again and again and on lap seven of ten they had taken 1.3s from the existing lap record on their way to victory some 8.6s ahead of their rivals.
Ellis said: "The new surface at Donington is brilliant; they have managed to get rid of all the bumps so I can see the lap record going in all classes this weekend. I was trying to keep it smooth and conserve the tyres as the smoother you are the faster you go."
On Saturday the outfits lined up for the start of race two and once again it was Ellis and Clement who took the lead from the off. They were never troubled and completed the ten-lap affair for their second win of the weekend some 4.6s ahead of the Christie brothers.
Todd said: "It was another good result for us, we are trying to conserve our tyres for the final race on Sunday plus of course it keeps the cost down as well."
In the third race they didn't get the best of starts and were running in second place on the opening lap. But once they got into their stride Ellis and Clement hit the front at Goddard's on lap two and began to pull away from the Christie brothers. They extended their lead with every lap and crossed the finish line 4.688s ahead of their rivals to take maximum points once again.
Todd said: "That's another fantastic win today. Now let's go home and get into TT mode as it's time for us to help Gary Bryan for two weeks as he is racing on the Isle of Man."
Having won all four races in the first two rounds of the current campaign Ellis and Clement have accrued 100 points and lead the championship with an advantage of 14 points over the Christie brothers.