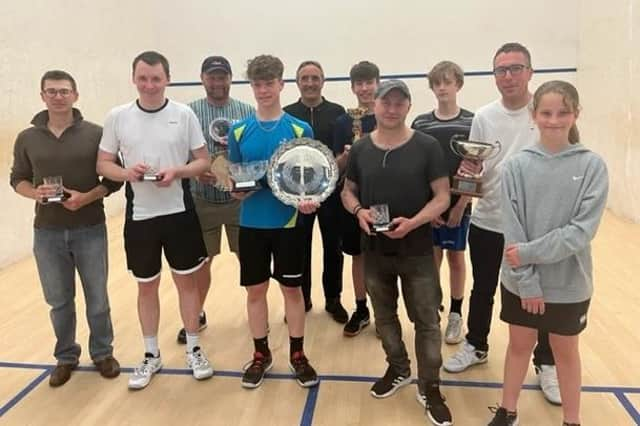 The squash and racketball finalists.
The club held their championships over two weekends.
Fifteen-year-old Cawston plays on the national Junior Circuit and was seeded number one in the event.
Cawston defeated reigning champion and number two seed Adam Hildred in three hard-fought games and held his nerve well on the big points to secure his first championship.
The closest final saw Jake Fountain retain his over 35 title, beating Tom Kemp 3-2.
In the Over 55s, David Stones beat runner-up John Macpherson and Over 45s winner Ady Proctor beat runner-up Stones
The junior competition was won by Zac Lowe, who defeated Charlie Underhill.
Sam Booth regained the main Racketball Championship when Ady Proctor conceded the final.
The title was much deserved after a particularly hard fought 3-1 win in the semi final against Cawston.
Age group Racketball results were: Over 55s – Mujeeb Pervez beat Edd Pickersgill 3-1; Over 45s - Hedley Muscroft beat Tim Booth 3-1; Over 35s - Hedley Muscroft beat Jason Hadland 3-0.
The plate competitions produced some competitive matches and Jason Hadland did the main plate double, defeating Mujeeb Pervez in the racketball and Simon Mandaugas in the squash.
The combined age group plates saw Mujeeb Pervez defeat Rich Gilby in the squash and Ed Pickersgill defeat Dave Neal in the racketball.
The junior plate saw William Hayward victorious against Alayne Buswell.
The most improved player award went to Simon Mindaugas.