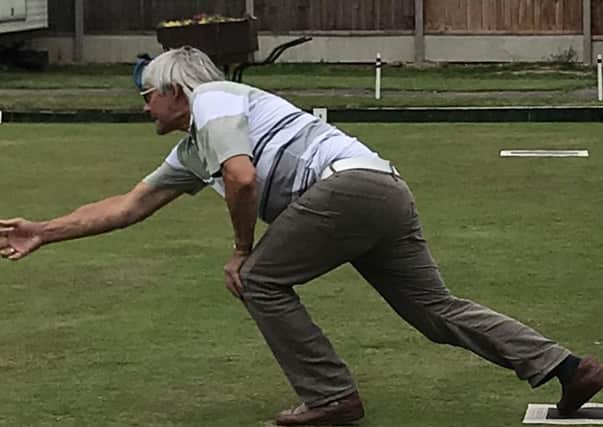 A strong start and finish allowed Dave to win 24-11.
Dave then lost to Merv Pack and John needed to beat Merv by nine in the last game of the week to stay in the top group.
John succeeded 21-16 but was relegated.
Purple group saw Pete Sharman meet Bill Yuill, Pete getting the better finish to run out 22-15.
Pete then beat Trevor Dunnington 17-14 to go back up into Blue group again.
Blue group saw Ted Bloodworth and Helen Holroys draw 14-14, Ted becoming the first player to take a point off Helen.
Janet Loughran too good for Ted but was beaten by Helen who ran out the winner and progressed into the top group.
Ray Loughran found himself in the Orange group thanks to losing on Moving Week, but won his first match 20-12.
It was a different score when he played Michael Gooderson, who was far to strong on the day and won 22-9 which, in turn, sees Michael up into Purple group.
Tony Hall put two wins together at last, 18 -16 against Gordon Neal then 17-15 against John Mitchell to put Tony into Orange group.
Brown group had Harry Maddison and Syd Oldfield playing twice. Tuesday saw Harry win 25-8 but on Thursday Syd got revenge with a 23-6 which left them tied over the week.
An extra end was needed and Syd got the all important shot to go up into Red group.