​Emily Horsted's dedication to improving golfing opportunities for juniors and disabled youngsters in her local area has seen her win the Young Volunteer of the Year award, in association with the Golf Foundation.
The Golf Foundation is a registered charity that introduces children to golf, from all backgrounds, creating golfers.
The England Golf Awards 2023, sponsored by FootJoy, celebrate all that's great about the game in this country – from volunteers to elite performers, clubs to counties, juniors to lifetime achievers.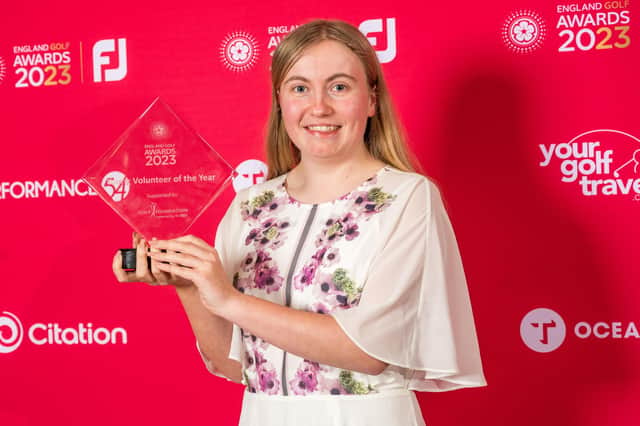 Described as a determined, supportive and selfless individual, Emily has a passion for helping others enjoy the game of golf and pours hours of her time into assisting young people as they begin their golfing journey.
As well as representing Woodhall Spa GC, Emily now coaches youngsters at Belton Park GC whilst at the same time supporting disabled youngsters from the Little Miracles charity to try golf at Peterborough Milton Golf Club.
Positively challenging the stereotypes in golf, she is also a National Young Ambassador both for England Golf and the Golf Foundation and is passionate about making sure that golf is accessible and enjoyable for young people of all ages and abilities in the Lincolnshire area.
A fantastic role model for many, Emily is seen as a 'big sister' by members of the current Lincolnshire Girls' Golf squad and is a deserved recipient of this year's Young Volunteer of the Year award, in association with the Golf Foundation.
After picking up her award, Emily said: "I'm literally shaking, I cannot believe it! My mum and dad got my into playing the game and I'm so grateful to them for their support along the way.
"I absolutely love seeing young people take up the game of golf and if I can play a small part in any way then I'm always happy to help!
"My main advice to anyone playing the game would be to enjoy it! Go out there, have some fun and try your best and then if you can encourage other people to play as well then that helps everyone!"​​​​​​​​​​​​​​​​​​​​​​​​​​​​​​​​​​​​​​​​​​​​​​​​​​​​​​​​