Boston Rugby Club in training for September return... as the champagne remains on ice
Head coach Ashley Coates promises last season's title celebrations will still go ahead when time is right...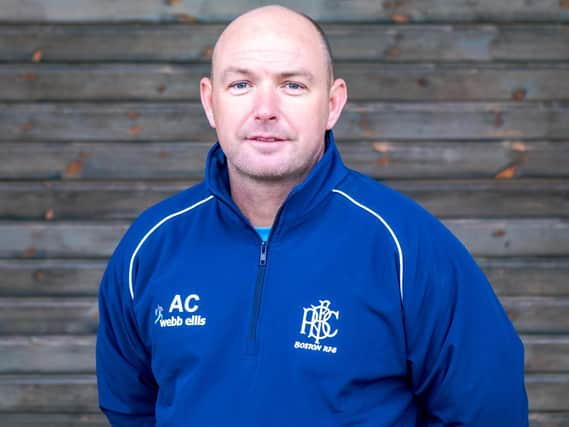 Ashley Coates has promised Boston Rugby Club will have the chance to celebrate their title win in style... even if the hard work has already begun for next season.
The Blue and Whites are back in training for the 2020-21 campaign and have been given a September start date.
"There's that element, we've won the league but we can't kick on fully at the moment," said Coates, who is getting his side focussed on next season while unable to draw a line under the previous one.
"It's a shame really but we're trying to keep that enthusiasm going.
"We've not had our get-together and end-of-season awards. We will have it but, until you have them, you don't feel like you've finished it off.
"You put so much hard work in."
Boston are due to begin life in the Midlands 3 against Mellish on September 5, although the current climate means question marks remain.
"That feels very ambitious at the moment," admitted Coates.
"Hopefully we'll get some clarity in the next month when things get lifted, but there's also an element that things may go back the other way. We have to be cautious.
"We're going up a league and it's going to be a challenge. We're looking to recruit new players to bolster the squad.
"It's about getting the balance right in the group of players but I certainly think we're capable of holding our own there."
As Boston prepare for their new surroundings, Coates believes the first target must be ensuring the club hold their own.
"We want to get to mid-table in our first season and show our mettle in there and build on that.
"It should be our target. We have to be ambitious, but I think we want to target realistic ambitions so we don't over-sell ourselves.
"Our performances will be important this year, taking pragmatic performances from last season into this league, keep building from there to make sure we're the better club in the region."
The Blue and Whites have been back in training for the past four weeks.
And while the head coach says it is good to meet up again post lockdown, he admits there is an element of caution around the Princess Royal Sports Arena at present.
He added: "It's been good, different because of restrictions on what we can do.
"The enthusiasm's there and it's the challenge as the coach to make it varied as there's no contact.
"We're keeping people in pods as we're not mixing.
"If you aren't sure when your first fixture will be you hold back as you don't want to burn people out too quickly."