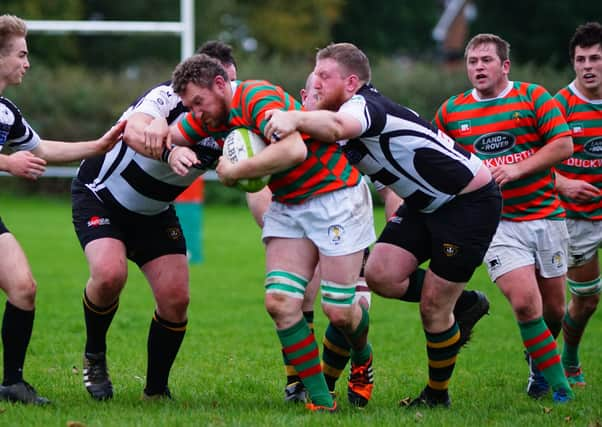 The skipper has hung up his boots following the end of the 2019-20 campaign.
And Red and Greens president Steve Everton suggests more players may need to be replaced before the new campaign gets underway.
"We hope to be able to continue in the same vein in the new season, but with the first team captain, Ben Chamberlin, retiring from playing as his body can't take any more - he has had several operations on his legs and was due to have another later in the year - and murmurings of other possible retirements it may be difficult to maintain the same standard," he said. "Finding the right replacement for Ben as first team skipper is a major issue with no one really standing out as his successor.
"We have a small core of players who turn up to every training session and they will almost certainly be returning, but the rest are a bit transient."
The club were awarded fourth place in the Midlands 2 East (North) as the campaign was brought to a halt due to COVID-19.
When next season is allowed to take place, Mr Everton hopes the club can bolster their sqaud.
However, he confesses it's not a simple task.
"In addition, these days work increasingly gets in the way and rugby has to take second place," he added.
"For example, we have teachers in the first team squad, but an ever-increasing round of parents' evenings and other meetings forces them to miss training.
"Player recruitment is very difficult due to our location and with one of our local rivals, Lincoln, playing in the same division there is no incentive for players close to Lincoln moving over to us.
"We have also suffered in recent seasons with quality players moving to Scunthorpe to try their luck at a higher level."
Mr Everton praised the thriving mini and junior sections, but added that the club would love to bolster its senior ranks.
He told The Mail: "In general, along with many clubs, player numbers is a major concern and we have now fallen down to a club that runs two sides.
"But we are struggling to put out a second team some weeks. Lack of fixtures for the two's is part of the problem with opposition sides crying off late in the week and therefore leaving no time to sort an alternative. This has a knock-on effect with the players who get disheartened and seek other pursuits on a Saturday afternoon because they can't be sure they will get a game even when they are selected at the beginning of the week.
"We have a thriving mini and junior section, but our locality is such that kids go away to university and never return, so we don't have a steady influx of new younger players moving into senior rugby."