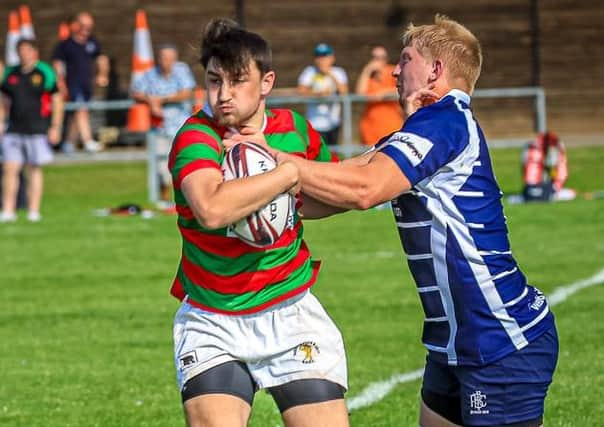 Last week the governing body announced it had settled final tables - including promotions and relegation - on a 'best playing record' formula.
Rasen & Louth were handed fourth place. Dronfield narrowly pipped Matlock to promotion while Coalville finished third.
Ashfield and Nottingham Casuals took the bottom two places with Lincoln just above them.
"We are of the opinion that the RFU had little alternative to the way in which the leagues were decided and, in our division, Midlands East North 2, the final standings were a reasonable reflection of how the season had played out to date," Red and Greens president Steve Everton said.
"The side placed second may be aggrieved that they didn't have the chance to play off for promotion, but it seems fair in the circumstances that the RFU opted for the team second in the South because they had a better playing record.
"Similarly, the side second from bottom may have played their way out of trouble, particularly as they were not in the bottom two three weeks before the cessation.
"We were placed fourth and feel that with the fixtures remaining we would have been around the fourth or fifth spot at the end of the season. We acknowledge that we were not good enough for promotion and were never at any stage in danger of relegation."
Reflecting upon the campaign, Mr Everton looked back on what he deemed to be a good campaign from the team but a sense of what-might-have-been.
"Generally, the season was a success with 14 wins from 20 league and cup games for the first team. The biggest disappointment was the unfulfilled potential of the cup runs.
"At the cessation we had yet to play the semi-finals of the Notts, Lincs & Derbys Shield and the Lincolnshire Cup.
"We had high hopes of winning one if not both competitions. In particular in the NLD shield we were matched in the semi against lower league opposition in Spalding, with Ilkeston waiting for us in the final, and we had had resounding wins over them in both our league encounters.
"The Lincolnshire cup final was also to be held at our ground, irrespective of whether we won our semi-final."