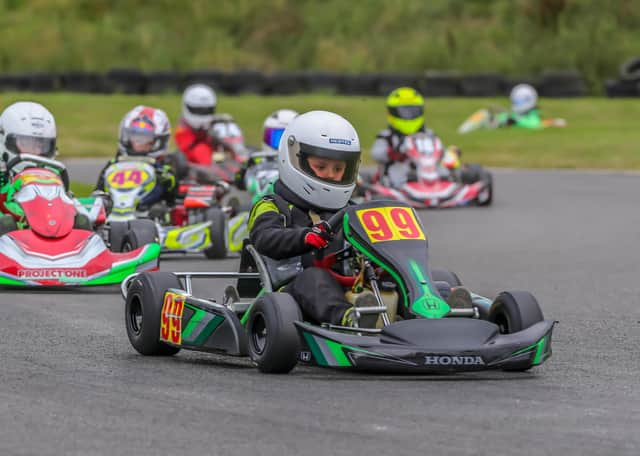 Rhys Owen (8) has shown plenty of promise after finishing second in the 70cc Grass Championship and first in the Winter Series, both of which are part of the Consingby Grass Kart club series.
Now the gifted racer is preparing to lock horns with rivals in The Fulbeck Sprint series and the Woodthorpe IKR championship as well as other one off races.
And Proud dad Ben, who is a former racer, believes Rhys has got what it takes to succeed.
"We are going to step up next year and we feel it is a natural progression," he said.
"A lot of the people he's racing against are older than him, as they move up and Rhys gets older we move up a bit.
"We are confident he has got the ability to do it.
"The main thing is that he enjoys it and that's the goal, that he gets out the car with a smile. At the same time he's hungry to go out and win.
"Every time we have gone out he has done well and has progressed.
"For 8 he is doing well. We will know in the next two years where he will be at, but for his age he is doing well. He has progressed quicker than we thought."
Ben also praised the sponsors who have helped him on his journey.
"We are so lucky to have the sponsors behind us as it's not a cheap sport," he said.
"They backed us through lockdown and carried on paying us. We can't thank them enough for doing that."
Rhys has been backed by A1 Motor stores, JDC Vehicle Sales, JP Autos, Ruskington Body Shop, The Little Italy Pizza Co and Castle Print.