Classic cars, bikes and town criers on show in Sleaford
The streets of Sleaford are set to be busy with visitors to a trio of fun-packed events taking place next weekend.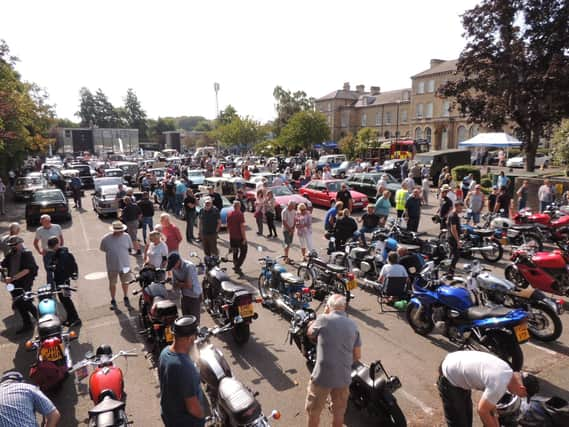 Saturday September 2 will welcome the annual Sleaford Classic Car and Motorcycle Show for its 30th anniversary gathering.
The wide array of classic cars, motorcycles and commercial vehicles spanning nearly 100 years, with their proud owners will attract enthusiasts from far and wide to Lafford Terrace car park on Eastgate in the town.
From very humble beginnings in the Market Place in 1993, the Sleaford Classic Car and Motorcycle Show has grown into an enjoyable and integral part of the classic vehicle calendar in Lincolnshire, South Yorkshire and the East Midlands.
It is actually 31 years since the inaugural event, but it had to be cancelled in 2020 due to the pandemic.
From "flat tank" motorcycles to "fast Fords" and everything in between, there is something for everyone to enjoy and reminisce about.
The car that your mum ferried you to school in, the one you learned to drive in or maybe the one you drooled over but couldn't afford.
Entry to the general public is free of charge and gates open at 10.30 am.
Subject to weather conditions and operational issues it will see a double Spitfire flypast, by the Battle of Britain Memorial Flight, Sleaford Museum Trust will be there and Lincolnshire Fire and Rescue will be in attendance providing advice on personal safety in the home and on the road as well as entertaining the younger visitors.
There will also be other events and attractions taking place throughout the day.
Compered by our own award-winning town crier, John Griffiths, the town council will be hosting the annual Sleaford Town Crier Competition from 11am until 4pm in the Market Place.
There will be criers from across the UK taking part in the contest with the first round starting at 11pm, second round at 2pm and prizes presented at 3.30pm.
The first round will see competitors shouting about their home towns, while the second round will be on a theme set by the judging panel. Coinciding with these events, Millstream Square, off Southgate will be holding the latest in its series of food and artisan markets from 10am until 3pm.
• For the latest news visit: www.lincolnshireworld.com