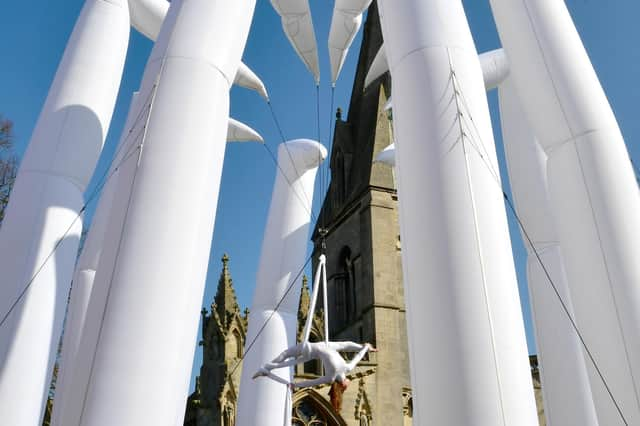 North Kesteven District Council has secured the necessary finances through the UK Shared Prosperity Fund to ensure the RiverLight Festival will go ahead in 2023 and 2024.
The hugely popular and successful event drew thousands of people to venues across Sleaford last March in an effort to bring crowds back to the town centre and revive fortunes after the anxiety of the Covid pandemic.
It saw everything from aerial and dance artists in the Market Place, to fantastic musical light shows on Eastgate Green and along the river.
There was street theatre, music, a silent disco, art and history exhibitions, embroidery workshops and guided walks among the attractions that created a memorable buzz around the town, including a series of fringe events in the build up to the main day of entertainment.
Lucy Lumb, visual arts development coordinator at the Hub, said the public is being invited to an initial consultation event for RiverLight 2023 on January 30 at 5.15pm at the Hub. If you are interested in being involved in the development and/or delivery of this year's festival, feel free to join in for an evening of thinking and exploration.
There will also be a Zoom link to anyone who cannot attend that evening. For further information about getting involved, contact Lucy Lumb on 01529 308710 or email: [email protected]
North Kesteven District Council Leader Councillor Richard Wright said: "We're delighted to confirm that plans are being developed to hold RiverLight Festival again in 2023 and 2024 utilising funding from the Government's UK Shared Prosperity Fund, and following its success in 2022 thanks to everyone involved and all who enjoyed it.
"We couldn't have been more pleased with its outcomes and the liveliness it cast across Sleaford town centre, from its beginnings as an ambitious idea to the fully-fledged festival which was delivered. RiverLight 2022 contained live art, performances and street theatre, activities and music, heritage, food, shopping and so much more. It saw over 10,800 public engagements across eight days bringing together over 120 local artists, businesses, retailers, schools, community groups, venues and volunteers, in a phenomenal programme shaped by the Hub team and rooted in the historic stories and environments of the River Slea. It not only provided an economic boost, but created a new outlet too for people to celebrate and share the great aspects of life in Sleaford and North Kesteven.
"There's much work to do in shaping RiverLight Festival 2023 and we look forward to seeing it develop together with partners, with more information shared in due course."