Organist entertains
The February 'Music for Woodhall' concert will be given by the ever popular Andrew Nix.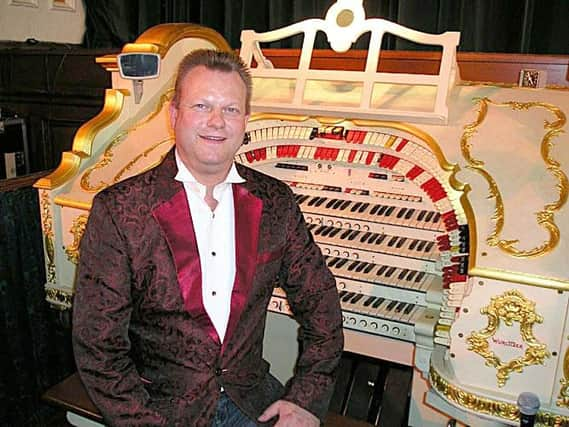 Andrew has visited Woodhall Spa on numerous occasions and his concerts always strike a chord with the audience.
His programme is very varied and no two concerts are ever the same.
Andrew Nix has established himself on the organ circuit, not only as a musician, but also as an entertainer.
His varied musical repertoire along with his Yorkshire humour has made him one of the country's favourite performers.
Shortly after leaving school, Andrew was offered three nights a week playing in a local club, where he accompanied artistes and played for dancing.
This 'training' proved priceless, as at 17 years old he was appointed Organist and Musical Director for a Theatre Group performing at Butlins, Barry Island.
Andrew thoroughly enjoyed this position as he was gaining experience and confidence. After three further seasons with Butlins and one for Haven Holidays, Andrew became fully freelance as he was increasingly in demand for concerts and dances nationwide on both Theatre and Electronic organs.
In May 2000, Andrew started performing on a Roland Atelier instrument and currently tours with the AT900c (Freelance). He fell in love with the richness of the Atelier, which produces a perfect backdrop for his wide range of playing styles. Audiences are enthralled by the range of orchestral sounds and are stunned by the truly authentic Theatre Organ sounds which are an asset to Andrew's programme.
From Ballads to Latin, Marches to Musicals, Andrew is one of the busiest performers on
the circuit, performing light hearted shows with a wide range of musical styles.
Organiser Philip Groves said: "It will definitely be a wonderful evening of music with Andrew Nix, so why not come along and support live music in Woodhall Spa."
Admission is £8 and the concert will take place on Friday, February 3, starting at 7.30pm, in Coronation Hall, Spa Road, Woodhall Spa, LN10 6PZ.
Further information is available from Philip Groves on 07419 998158 or visit the website