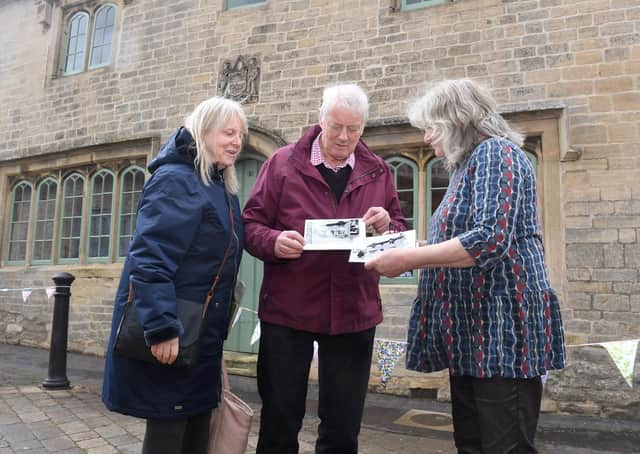 Harriott Righini-Brand talking to Dave Mettam and his wife Ann Mettam. Dave's grandfather lived in Navigation House. EMN-210521-160924001
Navigation House, off Carre Street, in Sleaford; Cranwell Aviation Heritage Museum, in North Rauceby; and Mrs Smith's Cottage, in Navenby, all opened up to the public again after a lengthy period of closure due to pandemic restrictions.
All are owned and run by North Kesteven District Council, with help from enthusiastic volunteers.
Navigation House will now be open every Friday, Saturday, Sunday and Monday from 12-4pm.
Debbie Scott of Sleaford Navigation Trust. EMN-210521-160935001
Since its closure in March 2020, there have been a number of changes inside, including a new exhibition and several pop-up retailers.
A re-opening party was held on Friday, despite the rain, with Sleaford Museum bringing along some interesting items and Cogglesford Mill selling its famous stoneground flour.
Navigation House tells the tale of the Sleaford Navigation canal and the importance it had on the growth of the town.
Cranwell Aviation Heritage Museum will be open on Fridays, Saturdays, Sundays and Mondays from 10am to 3pm.
L-R Debbie Scott with visitor economy operations officer Anne Flannery, serving cakes to visitors. EMN-210521-160946001
The team has been busy giving displays a fresh new look and putting some previously unseen items on display.
A new exhibit – the de Havilland Ghost 50 engine - is a new exhibit. It helped power the Venom and The Comet, the world's first commercial jet airliner.
Another new display tells the story of Hugh 'Boom' Trenchard, the man often described as the Father of the Royal Air Force, and someone who was pivotal in the creation and early years of RAF College Cranwell.
Mrs Smith's Cottage will be open on Fridays, Saturdays, Sundays and Mondays from 12-4pm each day.
L-R Mark Bamford of Sleaford Museum, talking to George Wing 15, Seraphina Marshall 15 and Lorelei Marshall 11 of Rainbow Stars Home Education Group. EMN-210521-160956001
The museum briefly re-opened following major repairs to the site in August after more than six years of closure.
It has lots of activities for the summer.
lFor more information and to check booking details, visit www.heartoflincs.com
Harriott Righini-Brand with sculptures she has created EMN-210521-161006001
Harriott Righini-Brand with her book on Navigation House. EMN-210521-161016001