With some of the UK's top wrestlers stepping into the ring it's heading to be another sell out at Doncaster Dome, on Saturday, April 22, from 6.45pm.
BUY TICKETS: Guarantee your seats - buy ringside, tiered, balcony tickets, from £25 to £80, with special meet and greet packages also available at www.1PWtix.com.
The show will feature its first ever Women's World Champion, The Mens and World Tag Team Championships, two former 1PW World Champions and athletes from NJPW, AEW and the very premier fighters in Europe as they square up to become the new 1PW World Champion.
An electrifying night of action-packed displays of strength will see history made with the crowning of the first 1PW Women's World Champion. The line up includes the likes of Xia Brookside, Lizzy Evo, Millie Mckenzie, Nina Samuels, Taonga, Dani Luna, Amale, Session Moth Martina and Alex Windsor.
Fans can buy tickets for a special meet and greet and photo opportunity at the 1PW Women's World Championship press conference before the show, at 3pm.
Mark Haskins will battle former champion Ulf Herman in a NO DQ Match, with the winner taking their place in the main event to crown a new 1PW World Champion.
1PW recently announced former IWGP Heavyweight Champion Will Ospreay had joined their roster and he will also be in action against Bobby Fish.
The 1PW Tag Team Championship will see Sub Culture, Bullet Club, The Rascalz and Boisterous Behaviour all in the spotlight.
Line-ups are subject to change.
One Pro Wrestling, known simply as 1PW, is a British professional wrestling company reborn from the ashes of the original company.
It made its highly anticipated comeback after a 11-year hiatus with a sold out show last October featuring WWE legend Rob Van Dam and other wrestling superstars at its original and spiritual home of Doncaster Dome.
A New Twist Of Fate, which played on the company's first-ever show name, A Cruel Twist of Fate, took place 17 years to the day of 1PW's inaugural show at the venue.
The promoter also held a successful No Turning Back show in February at The Engine Shed in Lincoln. More shows are scheduled for later this year in Doncaster and Lincoln - with plans to further expand.
Founded in 2005 by managing director Steven Gauntley, who is back at the helm, the original 1PW was headlined by some of the biggest names in the industry, including AJ Styles, Abyss, Samoa Joe, Christian Cage, Steve Corino, and the legendary Bret 'The Hitman' Hart, alongside a roster of premier British wrestlers like PAC, Doug Williams, Jody Fleisch and Greg Burridge.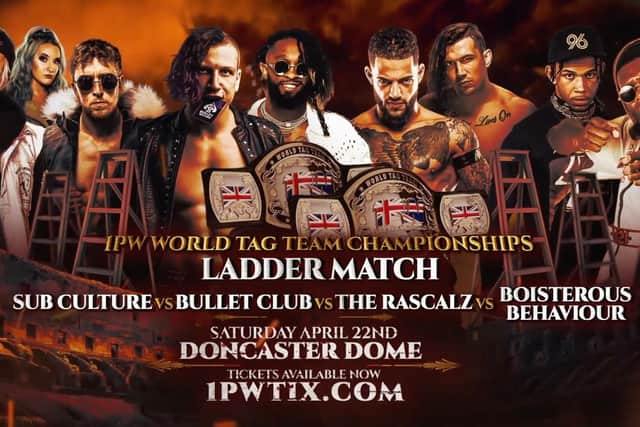 It's now All Or Nothing for the latest stars of 1PW as the Mens and Women's World Championships, and the World Tag Team Championships are decided in an electrifying night of epic, action-packed displays of strength, agility, and showmanship on April 22.
The stakes are high and the passion is palpable as each wrestler puts everything on the line to come out on top as 1PW continues to deliver its trademark shows, promising to be an emotional rollercoaster from start to finish, leaving fans feeling inspired, exhilarated, and wanting more.
1PW helped launch the careers of the first-ever NXT Tag Team Champion and current WWE announcer, Corey Graves (Sterling James Keenan) and former WWE Superstar, Drake Maverick (Spud).
Boss Steven says 1PW is now promising more global talent on a grand scale to help raise the profile of modern British wrestling with regular all-star shows including names and themes from the company's illustrious past.
1PW is partnering with FITE, a premiere digital network for global sports and entertainment, as a streaming partner for its live events and the release of its back catalogue of star-studded shows.
It is available worldwide through its iOS and Android mobile apps, Apple TV, Android TV, ROKU, Amazon Fire TV and Huawei apps.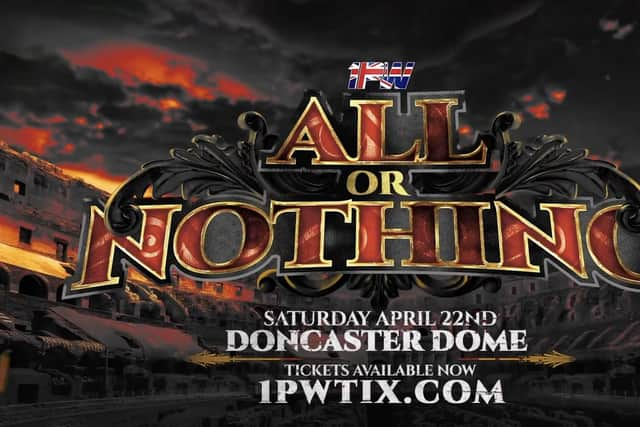 The lucky winners will be the first five names drawn at random on Thursday, April 20, at noon.
For full terms and conditions, marketing and privacy notices, see the online entry form.