Discover what it means to be a 'Yellowbelly' at show
A performance in words and music that aims to shed light on what it means to be a 'Yellowbelly' is set to be staged in Lincolnshire.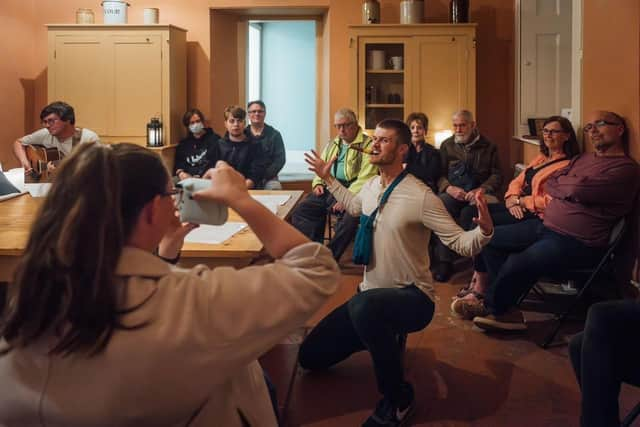 The event, titled Henry VIII Used To Hate Us – the history they don't want you to know about, will take place at RSPB Frampton Marsh, near Boston, on Friday (October 20) starting at 6pm.​
It will be presented by actor Ryan Gilmartin and musicians Dave Malkin and John Dipper.
Ryan and Dave grew up in Lincolnshire and both attended Spalding Grammar School. They teamed up 13 years after leaving school and the county to explore their local identity.
Ryan left Lincolnshire for Manchester to study acting and was struck by how some have a strong sense of regional identity when he met fellow students from the north and discovered their association with vernacular language, food and song.
Musician Dave Malkin left the county for London to study music and found similarly that his colleagues had a wealth of folk songs and tunes from their various areas of the country.
The show aims to explore the area's history, retell well-known stories and shine a light on others which have remained largely untold, especially for young people. One such tale is that of the Lincolnshire Uprising of 1536, following which, Henry VIII described the county as 'the most brute and beastly in the realm'.
Ryan said: "The play challenges how I was taught history at school – and its relevance.
"We have a strong working-class spirit in the county and a rich, exciting, unique history. You are from somewhere and it matters that you are unique.
"We used to be so radical as a county – somehow that got lost – we are perceived as boring and flat with no identity – the play challenges that perception. It is immersive and interactive and gives the audience the chance to share their history and what it means to them."
Dave said: "When I first met John, who appears alongside Ryan and I in the show, he told me how he grew up in Wiltshire, playing the fiddle for the White Horse Morris Dancers.
"His first gig was as a boy, playing at Stonehenge on the Summer Solstice. He has been so rooted in the tradition from the very first steps he took as a musician, it made me realise I was quite disconnected from where I grew up, in Lincolnshire."