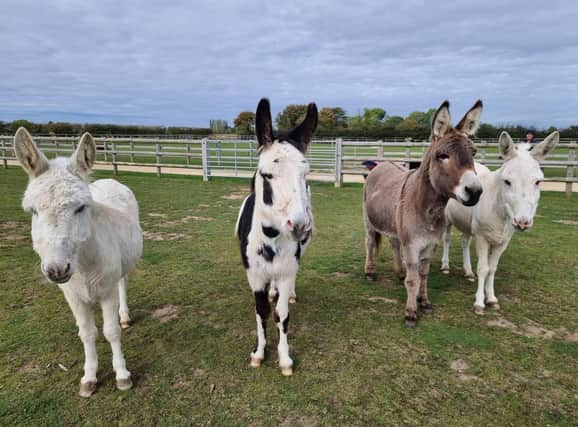 The equine welfare charity is running a 'Do You Know Your Donkeys' activity aimed at young children this half term, taking them around the pathways where they will meet their rescued horses, ponies, mules and, of course, donkeys.
Donkeys are very much in the spotlight right now thanks to their role in two of the most celebrated films released this year: The Banshees of Inisherin and EO.
Senior press officer Maria Thompson said: "Donkeys, it seems, are having a moment right now.
"Sadly, we continue to see neglected and unwanted ones on a regular basis and we hope a visit to Bransby Horses will help raise awareness of their needs.
"Donkeys needs are quite different to those of horses and ponies and visitors can find out more on a visit this half term.
"We are always on the end of the phone to offer advice and guidance to owners and for anyone interested in seeing the ones we care for; we would encourage them to come and visit – you might even get a Hee Haw."
Bransby Horses also has a visitor centre, playpark, picnic area and café.
Entry is free to the equine charity based just a few miles north of Lincoln.
The 'Do You Know Your Donkeys?' activity will be on until the end of the month and for March, families can enjoy a new activity which will see a switch from donkeys to dragons.
These activities are £3.50 and include a special prize at the end.
Bransby Horses also has a Donated Goods and Tack Shop filled with pre-loved
bargains. The charity is always happy to take donations for the shop from which
every penny of profit made goes directly back to paying for their equine rescue and welfare work.
Bransby Horses is open Wednesday to Sunday 10am – 4pm and during school
holidays it is open seven days a week, Monday to Sunday, 10am – 4pm.