Rony, who has hosted a show on the network since 1984, is bowing out aged 79, having been the voice of major moments in local history from the miners' strike to coronavirus.
He presented the mid-morning slot before moving to the lunchtime programme in 2016, and was known for his phone-ins, interviews and outside broadcasts from around BBC Radio Sheffield's patch in South Yorkshire and North Derbyshire.
Rony has not been presenting a show since lockdown began in March. He officially leaves at the end of this week.
"I've met and worked with some smashing people," said Rony. "But now I'm closing my fader. I didn't expect to get away with it for 40 years."
Born John Goronwy Robinson, Rony was a pupil at King Edward VII School in Broomhill before studying history at Oxford where he edited the university newspaper Cherwell.
Later a teacher, he published a novel called The Ted Carp Tradition about life in comprehensive schools, then became a playwright working at venues including the Theatre Royal Stratford East and the Crucible in Sheffield. His novel The Beano – about a brewery's staff trip to Scarborough in 1914 – was issued in the 1980s by Faber, and he released his memoirs – titled Who's Been Talking? – in 2010 in aid of Sheffield Children's Hospital.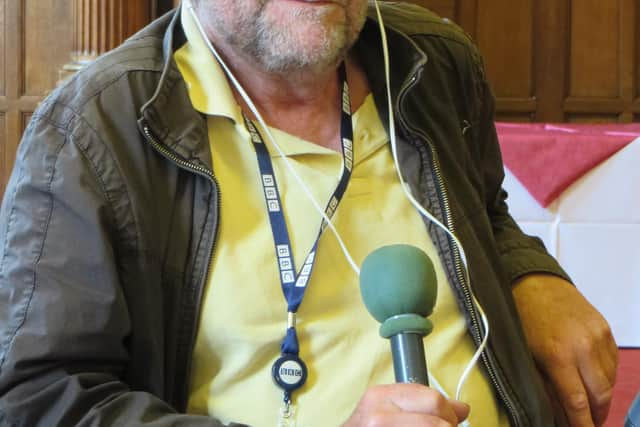 He has also won radio awards including three Gillard Golds and a Sony for his play Last Loves.
Rony has three children and five grandchildren. He lives with his partner Sally and their dog Jack, within 100 yards of where he was born in Totley.
Katrina Bunker, editor of Radio Sheffield, said: "Rony is the wisest of colleagues and the kindest of men, loved by the team and by listeners alike. When it comes to radio, he has been showing us all how it's done for years – an unrivalled interviewer, a presenter of great empathy and the biggest champion of creative broadcasting."
Rony, she said, is 'a man who loves where he lives and loves celebrating local lives and local communities'. "We will miss him greatly and wish him all the very best for his next chapter – many years of writing, art and grandchildren ahead."
In these confusing and worrying times, local journalism is more vital than ever. Thanks to everyone who helps us ask the questions that matter by taking out a digital subscription or buying a paper. We stand together. Nancy Fielder, editor.