#healthheroes - Comedian Matt Lucas loves Sleaford family's dance routine to his Baked Potato NHS charity song
A family who choreographed a dance to accompany comedian Matt Lucas's charity potato song are thrilled to have been endorsed by the man himself.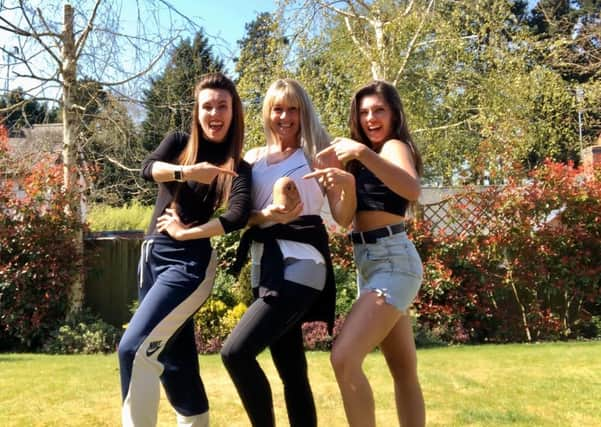 The star of Little Britain, Les Miserables, Dr Who and Shooting Stars penned the tune, Baked Potato, raising awareness of the hard work of the NHS during the coronavirus crisis, encouraging people to donate to a Justgiving page helping front line NHS staff to access hot meals.
Debbie Savage is a professional dance teacher, running Centrestage Performing Arts school based in Leasingham Village Hall, she also works as a teaching assistant and dance trainer at Sleaford's William Alvey School.
She found herself joined under lockdown by 28-year-old daughter Hollie, who has been working from home for The Telegraph, and 19-year-old Libbie, who is a second year musical theatre student at Urdang Academy in London.
Debbie said: "We have been trying to find things to do to cheer ourselves up and spread a bit of joy.
"We came up with a dance routine to Reach For The Stars by S-Club 7 and put it on the Greylees Facebook page, where we live, then got everyone to learn it and join in outside their homes in the street on Sunday.
"We are doing videos for the kids at Centrestage to follow as well and keep active, as we miss them."
Then they devised the latest routine to Matt Lucas's Baked Potato at the weekend, which involved drawing a face on a sweet potato, nicknamed Simon and animating him, as well as doing their new routine.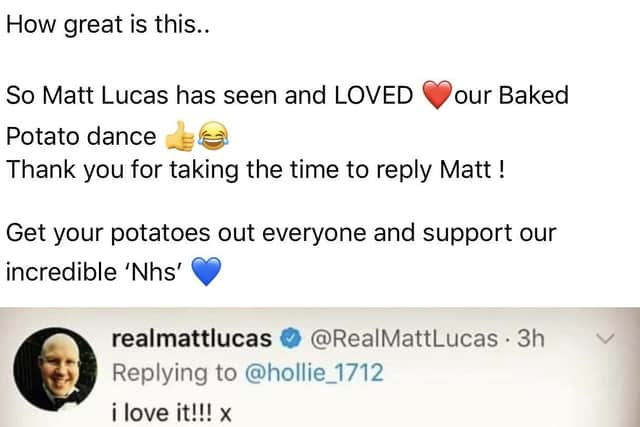 Debbie said: "We thought it was quite good to raise money for the NHS. We have done other silly videos to keep friends entertained and this was something for young people as I have been going into school to help with the key workers' children."
Libbie edited the video and posted it on social media, receiving a reply from Matt Lucas who saw it and shared it, commenting: "We have ourselves a dance routine - I love it!"
They have had loads of positive messages about the video and Debbie said: "We're really shocked as he must have thousands of people tweeting to him.
"It is really nice he took the time to read it and have a look."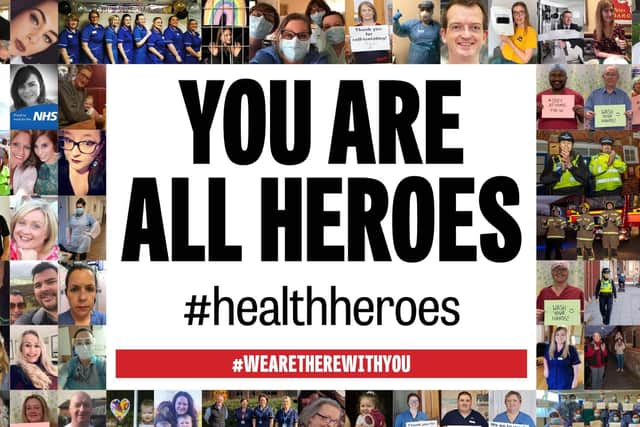 Hollie said: "This is why we did the dance! So households in isolation can have some joy, fun and positivity as we try and navigate through the crazy world we live in and obviously encourage as many people to raise money for the NHS."
The trio are now in the process of devising another dance video next weekend.
○ There is something very special about today. For the last two Thursday evenings at 8pm, the sound of applause has rung out loudly across the streets of the UK to celebrate those who are leading the nation's fight against coronavirus.
It's a simple gesture – but one that captures the heartfelt praise so much of us want to offer to everyone on the NHS front line, as well as care workers, key workers and those in other essential roles.
The #healthheroes campaign - which follows the nationwide regional press campaign #ThereWithYou - goes far beyond hospitals. It also shines a light on those other vital key roles from carers and shop workers to refuse collectors and bus drivers as they play their part.
And that message was echoed by Her Majesty The Queen earlier this week as she praised the "dedication to service" of nurses, midwives and other health workers during the coronavirus outbreak in a message to mark World Health Day.
She added: "In testing times, we often observe that the best of the human spirit comes to the fore; the dedication to service of countless nurses, midwives and other health workers, in these most challenging of circumstances, is an example to us all."
So that is why today more than 100 titles across JPIMedia have come together to say thank you and salute those who are making a difference in the communities they live up and down the country.
Today, across all our websites, we are celebrating those who are making a real difference in the fight against this virus.
Our readers have spoken of their pride in the NHS; they have shared photos of those on whom we have rarely depended more and they have shared their heartfelt messages of appreciation to those who are making the ultimate sacrifice to keep our nation safe and healthy.
Jeremy Clifford, editor-in-chief, said: "We have heard so many great stories of key workers who are continuing to work that we wanted to pay tribute to these in a big statement across our portfolio of products.
"As a result of an appeal to readers, we have been inundated with photos and messages. We hope that by putting them on our home pages and front pages, we are playing our small part in thanking those workers."
And for JPIMedia's titles it is an opportunity to join together as a collective force to celebrate and champion those in the heart of our communities. After all, we live in those areas, we love those areas and we care about those who live there. They are quite simply our heroes - and they mean so very much.