Traders return to Fantasy Island in Ingoldmells as restrictions ease
There are no screams of joy from the roller coaster that twists and turns in the skyline overhead . Europe's 'largest seven-day market' in Ingoldmells is much quieter place to shop now -  apart from music, interrupted every few minutes  with an announcement over the tannoy about social distancing.
Watch more of our videos on Shots! 
and live on Freeview channel 276
Visit Shots! now
Fantasy Island market has re-opened in the latest easing of Covid-19 restriction, but the thousands of visitors it would normally attract have, in the main, stayed away on the first weekend - the numbers not helped by the cold wind and heavy showers.
Weeks of preparations have gone into making one of the coast's biggest attractions safe to welcome customers back - but it's easy to see from the expression of disbelief on the faces of visitors that Fantasy Island without the fun is a whole new world.
We were told many market stall holders were waiting until more shops and restrictions are eased on June 15 - in spite of Fantasy Island offering a rent-free month.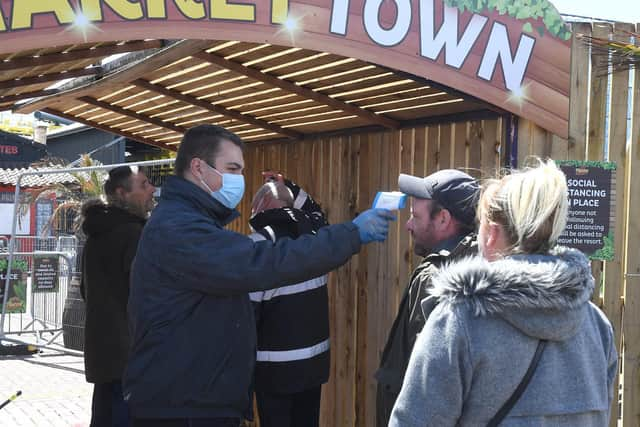 A good number of traders, who had braved the elements on a cold Saturday morning, wore face masks - only their eyes gave the welcoming smile the theme park's visitors love.
Closed shutters amongst the market stalls that did open were a sign this was another example of the 'tiny steps' the government describes, as the country gets back to some kind of normality.
"It's almost as if you had stepped onto a sci-fi film set," one visitor commented.
Expect shopping at Fantasy Island to be a completely different experience at the moment - as it will be for the High Street when the doors of non-essential shops open on January 15.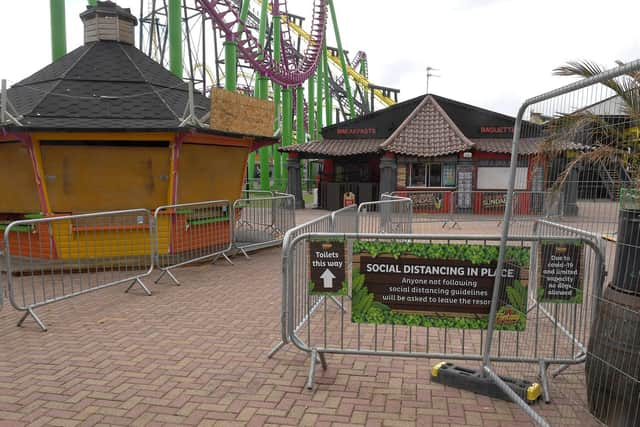 But for now, visiting the market is filled with opportunity for locals, who may enjoy exploring what is on offer while it is quiet. Any support would be welcome.
An example of the effort the company has made to make it as fun as possible is the new themed tropical archway at the entrance, where friendly staff. take your temperature before being allowed on site.
A one-way system has been installed to encourage social distancing and there is plenty of signage to remind visitors to stay safe.
Market stalls have introduced their own social distancing measures, including more one-way systems and screening.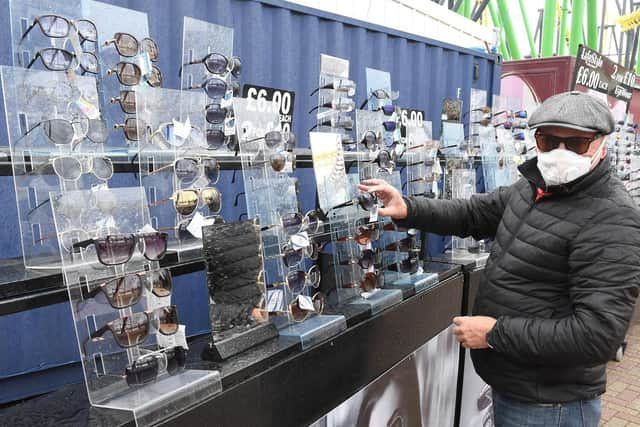 It is clear opening has been a massive challenge for the management team - who would normally at this time of year be filled with passion and excitement about the ensuing season.
The truth is all businesses can do at the moment is follow the guidelines - and then hope.
"I've been watching the government announcements every day for new guidance to help us get open," said Paige Megan Harris, director of marketing.
"The safety of the traders, our staff and our customers are our priority and we have spent hours working on the strategy with signage and one-way systems.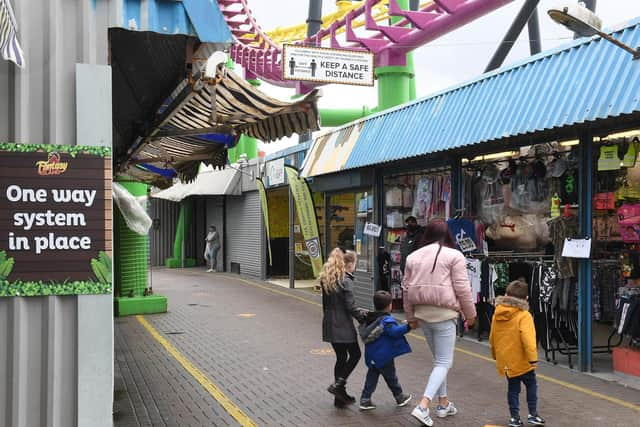 "Since we opened we have had a good few visitors - but what we haven't wanted to do is attract massive gatherings.
"We can't wait to welcome everyone back but only when it is safe."
Stephen Haydon is a long-term trader at Fantasy Island selling eyewear and has praised the efforts the company has made in getting them back to work.
"I'm pleased to be open, Fantasy Island have done it properly," he said. "They have got us back to work.
"Everything is signed up . They have done it well. The traders are working with Fantasy Island - we're working together."
Mark Jeffery has run a cafe on Fantasy Island for 20 years and was also pleased to be back open.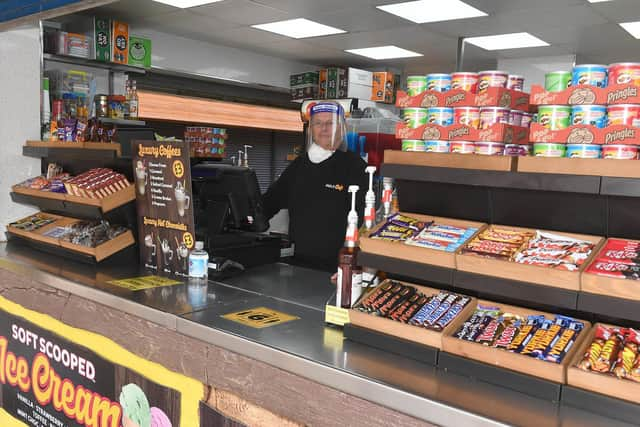 "It may be a bit cold for ice-cream but we have sold a few," he said.
"We have made a lot of changes to be open - signage, one-way barriers, hand sanitiser, face shields and a collection point for orders to keep the queue moving.
"We are just pleased to be here and pleased to be open."
Among the visitors on Saturday was Tanya Larkin.
She had travelled from Derby with her five-year-old son Leighton who wanted an electric scooter and friend Ben from Notts
"I've been coming every year for as long as I can remember," she said.
"I am pleased it is open but it's normally packed - it's very quiet.
"I can't wait for it to open properly.
"But I have felt safe while I have been here."
* This is the fourth season since the Mellor Bros took over Fantasy Island. Recently one of the directors, Edward Mellors, was invited as a representatives from the arts, cultural and sporting worlds to join a new government taskforce aimed at helping getting the country's recreation and leisure sector up and running again.
In total, five new ministerial-led taskforces have been set up to develop blueprints for how and when closed businesses and venues can reopen safely, following publication of the UK government's National Covid-19 Recovery Strategy to help rebuild Britain.
Oliver Dowden, the Secretary of State for Digital, Culture, Media and Sport (DCMS), will be chairing the taskforce responsible for the recreation and leisure sectors, and joining him in this important work is:
He commented: "We are determined to do all we can to help our sectors that are such an incredible part of British life in their recovery.
"The Taskforce is made up of some of the brightest and best from the cultural, sporting and tech worlds. Experts in their fields, they'll be instrumental in identifying creative ways to get these sectors up and running again."
A spokesman for Fantasy Island commented: "We are honoured to be a part of the Governments Taskforce to develop proposals for how and when closed businesses and venues can safely reopen.
"We will be working closely with other members on a reopening strategy to save the British economy.
"Our businesses cover a wide range of leisure sectors, such as amusement arcades, bingo, theme parks, fairs and event services. We hope our knowledge and expertise in these fields will assist in both rebuilding Britain and developing a rise in tourism in the future."
For updates on the re-opening of Fantasy Island, visit https://www.fantasyislandresort.co.uk/market/