Double delight for Forrester Boyd in Louth
Three new partners and a new office chairman have been appointed at Forrester Boyd's Louth office, as the accountancy firm celebrates its 85th anniversary.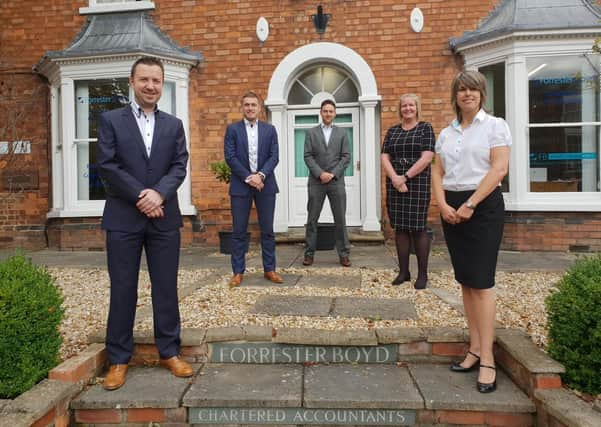 Taking over at the helm as the town's office chairman from Alan Nesbitt - who is retiring next spring after 24 years - is local man Lee Bradbury.
Fulstow-born Lee, a former KEVIGS student, says he is delighted to be taking responsibility for the office upon Alan's retirement.
Lee advises clients across a number of sectors, and heads up the firm's agricultural specialist team.
He said: "Farming, particularly in Lincolnshire, is a way of life for the vast majority of my clients and we are here to offer independent support and advice through the highs and lows that come with the sector."
Meanwhile, three of Lee's colleagues are delighted to be stepping up from manager to partnership level at the firm.
Toni Beecroft, Adam Millson and Nicola Hunt are all looking forward to their new roles in the well-established Louth office.
Working alongside Lee in the agricultural sector will be Nicola, who has more than 20 years of experience.
She said: "We all take a genuine interest in what our clients do, and I consider myself to have grown with them over the years.
"In many ways I am a part of their farming families. I get to know their lives, their business and their opportunities and challenges."
With Brexit and the end of the CAP subsidy payments on the horizon, Nicola's role with many of her clients is more important now than ever.
She added: "This is perhaps the biggest single change within the agricultural sector in recent history and requires planning and communication between me and my clients."
Toni Beecroft is another Forrester Boyd accountant to rise to partner after a career spanning more than 20 years.
A Louth resident since the age of eight, she joined the firm after her A-levels, studying accountancy and rising to assistant manager and then manager in 2015.
With a highly specialist knowledge within the small business sector, her eclectic mix of clients ranges from sole business owners to larger professional tradesmen with employees.
In recent years, the onset of 'Making Tax Digital' has been a focus for many, along with the return to work following lockdown and furlough in the last few weeks, she said.
Toni added: "Change is always around the corner and it is my focus to ensure that change is done in the right way and for the right reasons.
"It is my relationship with my clients that enables me to understand and assist."
The important role professional accountancy plays within the education sector has risen to the fore with the emergence of the academies structure.
Here, Adam Millson has played an integral role – establishing himself as a vital cog in the wheels of many regional schools as they move from conversion to becoming established academies. His client base ranges from the smaller single academy to large multi-academy trusts.
After his education at Skegness Grammar School, Adam signed professional terms with Boston United.
When injury cut his first career short, he turned his focus to accountancy.
Whilst still a keen player, his professional life has never looked back since joining Forrester Boyd in 2012.
Studying for his accountancy exams whilst working, he rose to manager level before accepting his partnership this autumn.
He said: "My work here is varied and extremely interesting and I enjoy it tremendously. Academy work can be challenging, and my reward comes in assisting members of the schools' teams to carry out and develop their roles, whilst ensuring their organisations are on a sound financial footing."
Meanwhile, as he looks to retire from the business, Alan Nesbitt is delighted to welcome the new partners, leaving the Louth office in the best hands for the future.
He said: "I can genuinely say that I have thoroughly enjoyed it.
"There is great satisfaction in working with so many different clients and in building long-lasting relationships.
"I have seen people start a business in their back rooms who are now turning over millions of pounds. It's massively rewarding being a part of that growth and helping contribute to their success."