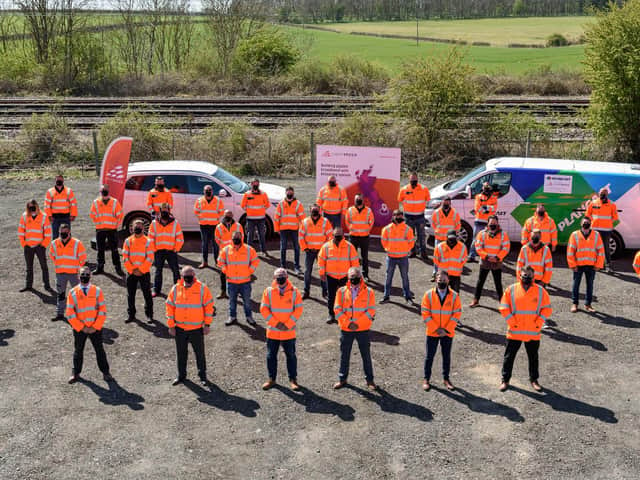 The state-of-the-art fibre network will deliver gigabit internet speeds, 15 times* faster, more stable and reliable than standard fibre broadband, directly to homes and businesses.
Local residents and businesses in Skegness will be able to benefit from ultra-fast upload and download speeds of 1000 Mbps which enables professional home working, streaming online entertainment, high speed gaming, home schooling and video calling, with no buffering.
Lightspeed Broadband, which is backed by private investment, is working in partnership with specialist fibre infrastructure contractors, Plancast and RCU Solutions, to roll out the network, starting in ten towns in South Lincolnshire and West Norfolk - Boston, Bourne, Holbeach, King's Lynn and South Wootton, Long Sutton, Market Deeping, Skegness, Sleaford, Spalding and Stamford.
Managed by a highly experienced team, including Chief Executive Officer, Steve Haines; Chief Operating Officer, Dave Axam and Chief Customer Officer, Joanne King, who combined have more than 100 years' experience in the telecoms industry, including with BT and TalkTalk, the company aims to bring its fibre optic directly to 100,000 homes and businesses across the East of England by 2022, with ambitions to expand and reach 1 million homes by 2025.
Plancast, together with Lightspeed are working with East Lindsey and Boston Borough Council and the highways agency in Skegness to roll out the network quickly. Existing infrastructure and cleaner, greener ways of building will be used wherever possible to minimise environmental impact and disruption to residents.
One hundred engineers have been deployed across the region and 30 new jobs are being created for the build, with an emphasis on employing, developing and training local people. Build teams are operating from depots in Stamford, King's Lynn and Boston, and the network will be managed from a new Lightspeed HQ in Spalding.
Dave Axam, Operations Director at Lightspeed Broadband said: "These are exciting times for digital connectivity, and we are moving at 'light speed' to bring Lightspeed Broadband to the east of England.
"Starting today in these ten towns, we are waking up the future of South Lincolnshire and West Norfolk by unlocking the digital and economic potential of these underserved communities.
"Together with our build partners, we will be working closely with the councils, highways authorities and local communities in each town to build the network.
"We want to build as environmentally kindly as we possibly can and we will be re-using existing underground ducts and telegraph poles, digging underground chambers, rather than using street cabinets, and using clean, electric vehicles.
"We're aiming to provide services to as many homes as possible by upgrading the existing infrastructure. In areas where this is not be possible, we'll look at options. Residents can register on our website to keep up to date with our build plan and our progress or follow our journey on social media."
Founded in 2002, Plancast has two decades of experience of supporting network infrastructure expansion and upgrade ambitions for clients such as Openreach, Virgin Media, Vodafone, O2, Gigaclear and Interoute.
Chris Chappell, CEO of Plancast Limited, added: "We are delighted and excited to be working in partnership with Lightspeed to roll out a full-fibre broadband network. We will be operating from our depot at King's Lynn, and recruiting and training local engineers to work with our team to deliver the build, drawing on our experience in the design, planning and construction of telecommunications infrastructure."
Local residents will be advised of plans to start work in their street and it is expected that the first homes and businesses will be able to connect later this year. Lightspeed will be offering a portfolio of services to consumers and businesses to cover all their internet and Wi-Fi needs. For further information see www.lightspeed.co.uk