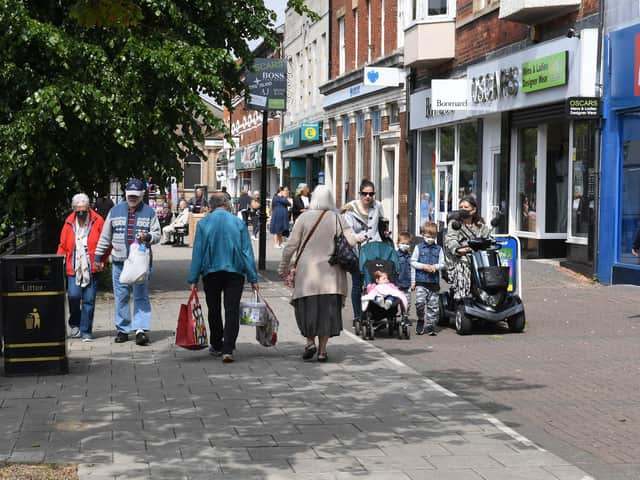 There may not have been queues like outside Primark stores in the cities - but Lumley Road was busier than on recent Mondays and even a local beggar was back in his usual spot outside a bank.
The empty Beales department store was a sad reminder of how challenging the High Street had been even before lockdown - its final weeks cut short by the government action to prevent the spread of Covid-19..
Early season attempts to improve the town had also fallen victim to vandalism while visitors were asked to stay away, with a new flower planter installed by the Lincolnshire Coastal BID now being used as a rubbish bin.
The sun, however, came out for the customers' return and there was even a message of hope from a digital sign above the entrance of the Tower Cinema - 'Together we will get through this'.
One of the busiest stores was Sports Direct in the Hildreds Centre, where a 50 percent off sale was being held for NHS workers.
Steve Andrews, the centre manager, said they had seen around 20,000 people a week through the doors for the few essential shops that were allowed to stay open during lockdown - about a quarter of what they would normally expect to see at this time of the year.
"It's been crazy. Until now we've had about 20,000 people through a week but today has been significantly busier - and the Sports Direct sale has been very popular.
"We are expecting it to be like this for a couple of days and then quieten down a bit.
"People are responding to the social distancing rules very well - some don't understand them but we have plenty of staff on with our tabards to direct people and it's all in good nature - everyone seems quite happy..
"We've got about 80 percent of the shops open now, with some more opening on Wednesday and Sunday."
Probably the most emotional reopening was at the family-run toy and designer children's clothes store in Lumley Road, R.Lowndes, which should have been celebrating its 100 anniversary this year.
During lockdown, when owner Anne Roberjot wasn't sure how they could survive losing £100,000 in the first 12 weeks of the season, she posted: 'We've survived 100 years, we'll survive this'.
"It has been so difficult in these unprecedented times. But I still had book work, girls' wages, and the end of financial year to do," said Anne.
"Winters on the high street aren't the best, so closing down just before Easter was financially horrendous.
"We haven't done a lot of business during lockdown but shared our website www.yourkoolkids.co.uk on social media for online sales and also offered a free delivery service to Skegness and area, which we are continuing for some of the more vulnerable who are not ready to go out."
Outside R Lowndes you can just see the faint remains of a yellow brick road from a previous event at the store - now a one-way rainbow social distancing trail guides you around the shelves.
"We thought the children would like that," said Anne. "I've been quite emotional today - it's felt like first day at school.
"We spruced the shop up during the winter for the 100th anniversary and we still intend to celebrate, even if we have to wait until next year.
"For now we are just glad to open. We all have face masks and gloves and clean down the surfaces regularly and have put in signs, screens and sanitizer.
"I hope our locals will support Skegness now as we don't want a ghost town and more shops closing."
Owners of SugarSweet have also been working hard to get ready for the reopening. Eva Szegner said: "We have set up a hand sanitizer station, a protector screen been fitted around the counter, we've installed air-conditioning to help with ventilation, deep cleaned everything and have put in a one-way system and social distancing signage.
"Fingers crossed our customers will appreciate what we have done and will work with us."
Staff at Alisons had been working long hours over the weekend to re-stock ready to reopen.
"The stock was removed after three burglaries at the start of lockdown," said Nazeer Ikbal, of the family-run business, who also own Oscars in Lumley Road.
"While Alisons was closed we've done some refurbishment as well as preparing to re-open. We are also looking at installing shutters at the entrance to prevent break-ins which is an added expense.
"All we can hope for is that is everyone adheres to government guidelines."
In Spilsby, the town was welcoming the return of the weekly Monday market.
Mayor Coun Terry Tayloe said: ""The reopening of the Monday market is great news for Spilsby.
"The market traders provide a variety of products for residents and visitors and it creates a unique atmosphere in the town.
"Obviously, due to the present situation, it will have to operate differently, but it does indicate that we are slowly emerging from the Covid-19 restrictions.
"We mustn't forget that more of our businesses in Spilsby will be opening too, joining businesses that have managed to trade since the lockdown was introduced and we must thank them for that.
"So it is all good news for Spilsby and hopefully a sign that better times are becoming closer."