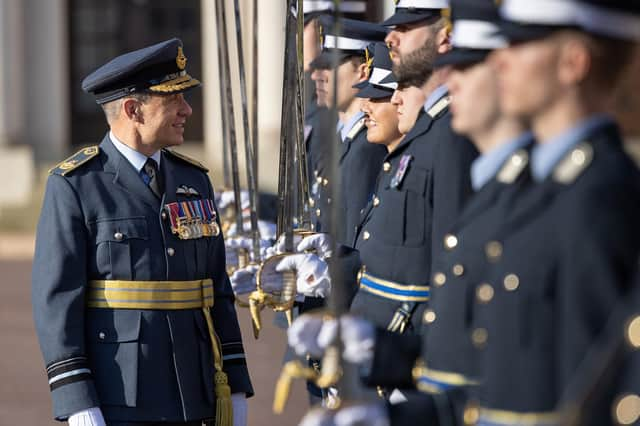 Air Vice-Marshal Christopher Snaith, the Director of the Ministry of Defence's Saudi Armed Forces Projects, was the Reviewing Officer at the graduation of The King's Squadron consisting of officers of Modular Initial Officer Training Course No 17 from Royal Air Force College Cranwell on Thursday (February 9).
The Officer Cadets marched onto the parade square, watched by their family and friends and were treated to a terrific Typhoon flypast by 41 Squadron of RAF Coningsby.
The RAF Officer Training Academy delivers Phase 1 training through the Modularised Initial Officer Training Course (MIOTC), Specialist Officer Initial Training (SOIT), Reserve Officers Initial Training (ROIT) and the Commissioned Warrant Officers' Course (CWOC).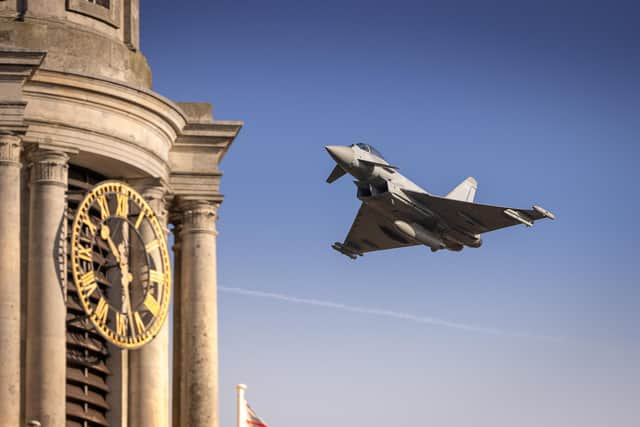 In addition, the University Induction Course (UIC) and Acting Pilot Officers Course (APOC) are conducted annually for personnel from University Air Squadrons (UAS). The Modular Initial Officer Training Course (MIOTC) has been designed to provide commissioning officers with the skills and knowledge required to set the foundations for a successful career in the RAF. These foundations will form a solid platform for continued professional development fitting in with both the RAF Division of the Joint Service Command and Staff College at Shrivenham and the Air and Space Warfare School at RAF College Cranwell.
The MIOTC allows the SOIT, ROIT and CWOC to 'plug in' at relevant points to achieve their training objectives. MIOTC consists of four, six-week modules which are delivered without inter-module breaks. The 24-week course will run up to eight times per year for up to 90 students per intake. The modular style paves the way for the future ambition to create multiple start points for students based on their previous qualifications and experience. Whilst each course has multiple start points it will always have a single end point. In this way, the course maintains its cohort nature and allows for a suitable graduation at week 24 for everyone.