CORONAVIRUS: New locations revealed for Boston community testing sites
The new locations for Boston's community testing sites for coronavirus, which will stay open until at least the end of next month, have been revealed.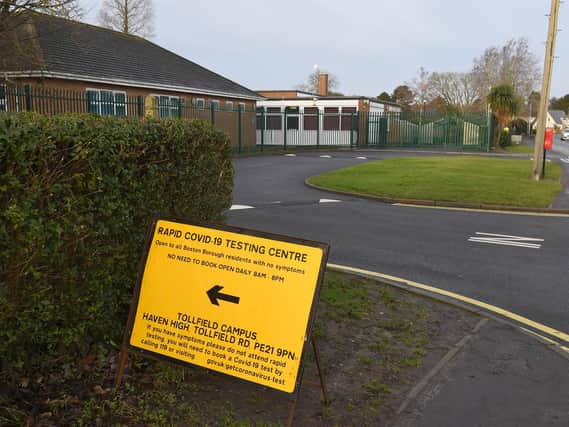 With funding in place until the end of March, and signs that testing facilities are likely to be around much longer, Boston Borough Council is having to move the sites from their current locations as schools get ready to re-open fully.
More than 10,000 people have now been tested since the sites opened, with around 1.5% showing positive.
The two current sites, at Peter Paine Performance Centre and Haven High's Tolfield Campus are currently open from 8am to 8pm daily offering drop-in testing for those without symptoms and who are not having to self-isolate.
The final day at Peter Paine will be tomorrow (Thursday), with the Tollfield site remaining open on Friday and Saturday February 26 and 27, before shutting its doors at 8pm for the last time on the Saturday.
The first new site to open will be Fenside Community Centre on Taverner Road which will be available on Sunday February 28 and Monday March 1.
And on Tuesday March 2, St Nicholas Community Centre on Skirbeck Road will also be opened.
Both will open from 8am to 8pm seven days a week, and with funding confirmed until the end of March they will remain open until at least the end of the month.
But according to Boston Council's assistant director – regulation Christian Allen, community testing is likely to be with us for much longer.
"Even if you've been vaccinated, you can still spread the infection. So community testing is going to be with us well into Autumn this year and will be rolled out county wide so it is more accessible to more people," he said.
David Clark, Lincolnshire County Council's Public Health Manager, said of the testing: "This ongoing programme of testing will continue to support the covid-19 response and assist us in continuing to reduce the case rate over time. "Asymptomatic testing ensures those who do not realise they have Covid do not spread it to those more clinically vulnerable. I would encourage everyone who can access the sites to take a test and do their bit."
Councillor Paul Skinner, Leader of the Council, said: "With doing this targeted approach data has shown it was the right thing to do for our residents and workers of Boston Borough. We have already been able to test more than 10,000 people and with doing that we have been able to prevent the spread of the virus further from those tested positive so they aren't spreading the virus unknowingly.
"As well as offering this service to residents we were also able to extend to workers in the borough who did not reside in the borough.
"Please continue to do your bit to help."
Mr Allen stressed that it was vital that people who tested negative continued to follow all the guidance and regulations, he added.
"The asymptomatic test isn't a test to enable. People leaving the test centre need to follow the government guidance on hands face and space."