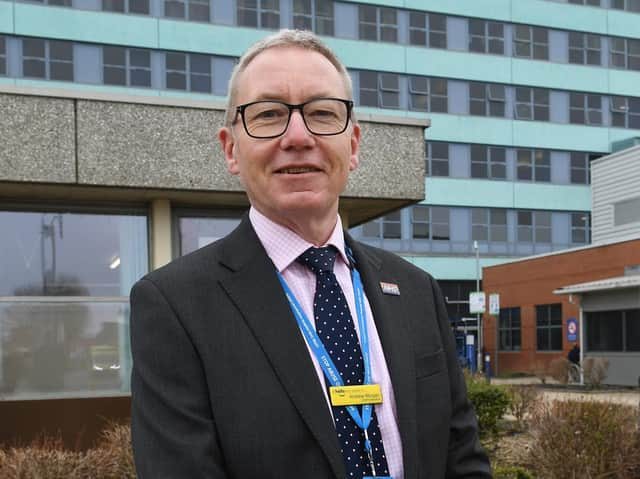 Across the county, the patient was one of less than a handful of cases officially identified at that time. By the end of March there were more than 100 cases in the county and it was rising sharply.
One year on the United Lincolnshire Hospitals' Trust has dealt with almost 3,000 confirmed Covid-19 inpatients across its sites, which include the Pilgrim, and 813 of those sadly lost their lives.
The Trust itself has paid a heavy cost. Many staff have themselves been hit by the virus, and staff have had to work long hours under huge strains, and have often been separated from their families for long periods.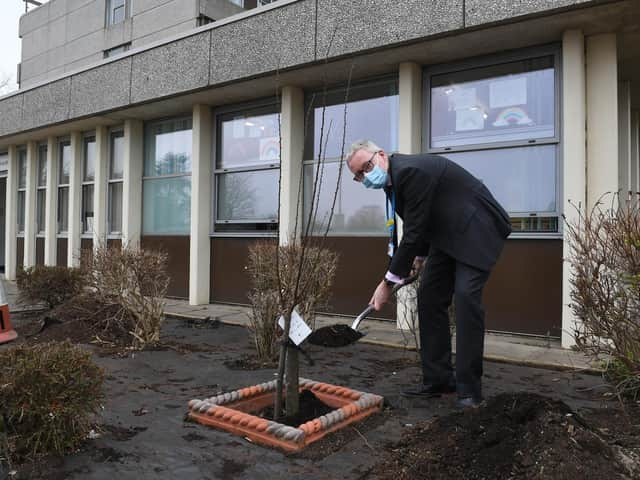 And it lost one of its own on April 27 when nurse Kumar Pavithran sadly lost his battle with the virus.
As the Trust planted trees across its sites last week dedicated to all those affected by the coronavirus, its CEO Andrew Morgan spoke to the Standard about the impact of the last 12 months.
Mr Morgan said his staff had responded magnificently to the Covid-19 crisis. "They have been fearless, professional, compassionate, selfless, resilient and flexible. It has been truly humbling to see," he said.
"It has been a team effort from both clinical and support staff. Staff have lived away from home, have been separated from their families on occasion and have had their annual leave arrangements disrupted. Many staff have moved departments or sites in an effort to help out.
"They have dealt with some very distressing circumstances. We have provided wellbeing support including mental health support. The public have also been very supportive and generous."
Looking back to the start of the crisis and how the Trust dealt with it, Mr Morgan said there were pre-existing pandemic plans that they were able to use, along with existing Emergency Preparedness, Resilience and Response systems and procedures.
He said these involved partner organisations and not just the NHS. "These were put into effect including the Local Resilience Forum. There were national instructions from the NHS and national guidance we also enacted. This was about freeing up capacity in hospitals to deal with an expected influx of patients."
Asked if there was any inkling of what they were about to face when the crisis started, Mr Morgan said: "We relied on public health modelling and the experience from other countries. What was hard to predict was the second wave that came in November.
"I am not sure anyone, including the public or politicians could have predicted the scale of what happened."
As the number of Covid cases spiralled, the Trust had to manage allocating care for those with the pandemic along with still providing its usual level of service.
"Some of our routine services were reduced. We had to arrange our services so that we could keep separate as much as possible, those patients who were COVID-free and those patients with COVID or suspected of having COVID," said Mr Morgan.
"This has meant a significant amount of redesign of our services. Examples include separate streams of patients in A&E, virtual out-patient consultations, the Green site at Grantham. We have also had to expand our critical care capacity."
Asked about the impact the pandemic had had on staff, he said around 14% of staff were absent at any one time during the peak of the second wave of the virus, with about half of those absences believed to be Covid related.
Mr Morgan also paid tribute to those who supported the front-line carers. "We all have benefited from the support of our families, friends and the public. I wrote to the children of staff members to thank them for supporting their mum/dad. A badge was sent with each letter."
And the outpouring of public support, seen with the Clap for Carers nationally and various fund-raising initiatives in Boston and other places around the county – and the efforts of the public to comply with lockdown rules – had been very important over the past 12 months.
"The public support and the generosity of the public and local businesses has been very well received. This has helped with morale," said Mr Morgan.
"We would also like to thank the public for their efforts in complying with the lockdown rules. This includes following the Hands, Face, Space message. This all helped to prevent community transmission, which in turn helps with hospital admission rates."
He said the Trust had last week planted a tree at Lincoln Hospital, Grantham Hospital and Pilgrim Hospital, and had them to those affected by COVID.
"Our hearts go out to everyone affected. We realise that statistics are about real people, our own loved ones and the loved ones of other people.
"We have all been through so much in the last year, both patients and staff. We thought it was appropriate to take a moment to reflect and remember what we have all been through."
Asked about the long-term impact of the, Mr Morgan said: "We will need to treat COVID as endemic in our society and plan our services accordingly. Good infection prevention and control will be key as will the risk stratification of patients.
"We need to restore our non-COVID services but this will not just be about going back to what we used to have. We need to tackle the backlog of work that has built up including that relating to time critical surgery."
Asked whether he thought people would be more appreciative of the health service as a result of the last year, Mr Morgan said: "I think the pandemic has reminded people of how important the NHS is to the quality of our lives."
He said it was important now to support the personal stress levels Trust staff had experienced during the crisis.
"Our staff need time to recover and we need to do everything we can to support their wellbeing."