Louth's GBM Demolition joins revamp of Naomi's Garden's new HQ
​One of Louth's long-standing businesses is the latest to offer its time to help the revamp of one of Lincolnshire's most valuable charities.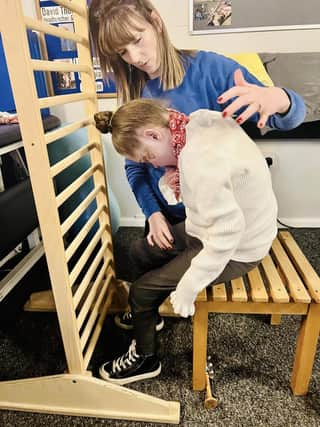 ​Well-renowned Louth business, GBM Demolition, is taking part in the fit-out of a brand-new headquarters for Naomi's Garden.
GBM will join five other companies from across the East Midlands donating their time to transform the building and enable the charity to deliver its life changing services to more people.
Based in Manby, Naomi's Garden provides conductive education those with movement disorders such as Cerebral Palsy, Parkinson's, Dyspraxia and Motor Delay, as well as support for their families (you can read our feature on Naomi's Garden here).
The charity also has a SEND (Special Education Needs and Disabilities) specialist who works with the needs of children with autism, ADHD and sensory processing issues.
Having outgrown its current premises, the charity has raised enough funds to secure a new site at Manby Park, and when complete, the new centre will enable the charity to extend its working hours, provide group sessions and support 50 percent more adults and children each year.
However the former motorcycle shop needs complete renovation, and will cost approximately £350,000. Naomi's Garden's team has raised £160,000, and works are due to start on the new premises in early Autumn.
GBM Demolition is donating its time to strip out the building and provide asbestos removal.
Andrew Grantham at GBM Demolition, said: "We're proud to be involved in a project for such a worthwhile cause, particularly one that is based so local to us. The work that Naomi's Garden does is invaluable to so many families across Lincolnshire and we're really pleased to be able to help the charity get its new HQ up and running as soon as possible."
Sarah-Jayne Walker, lead conductor at Naomi's Garden, said: "We currently have a list of families across Lincolnshire who are waiting to benefit from the unique therapy we provide.
"Therefore, we desperately need our new more accessible hub to be functional. A huge thank you to all our wonderful partners. We feel incredibly excited."